Muller helps power Alberta medal count
Posted on February 27, 2019 by Taber Times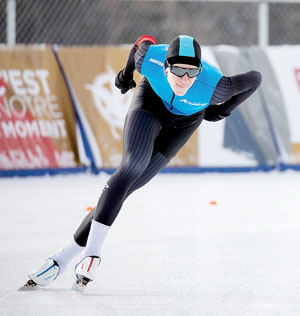 TIMES FILE PHOTO
By Greg Price with Team Alberta files
Taber Times
gprice@tabertimes.com
The Canada Winter Games in Red Deer have come and gone for Taber/Cranford's long-track speedskater Kaleb Muller, and with it has come many cherished memories — and medals.
"This (past) week has been a gold mine to win multiple medals at the Canada Games. I've been to two previous Games, and it's a really nice feeling to progress to this level and win medals," said Muller. "Especially with my whole family watching."
The long-track speedskater was able to garner four medals, two golds and two silver in his various pursuits.
Muller's performance in the 5,000-metre event not only got him a gold medal, but also his name in the record books. The time of 6:52.95 set by Mueller shattered the previous Canada Games mark. The previous Canada Games record in the distance was set in 2015 by Laurent Marcotte (QC) at 7:09.01.
"For all my individual races I just tried to stay focused, not do anything out of the ordinary and stick to my game plan," said Muller, who wanted to maintain the same lap times throughout his 5,000-metre race, starting with 30 second laps and trying to hold onto that to the finish. "It went really well, especially the 5K. I tried to start fairly conservative at the start, then hoped for the same lap times through the race. You break the 5K into four-lap segments with 12 laps total. The first four laps you ease into it, the next four you start working and the final four you just give everything you got."
Muller's two silvers came in his 1,500-metre and 1,000-metre events, with a gold in men's pursuit, where once again Muller's name entered the Canada Games record books. A time of 4:05.41 was posted by the Alberta foursome comprised of Muller, Paul Coderre, Max Halyk and Joshua Hathaway.
The time represented a new Canada Games record with a previous mark of 4:23.65 which was set at the 2011 Canada Winter Games.
"We didn't know what the record was before. We expected to go fast. We practiced the pursuit a few weeks in advance, and we knew if we converted our time from indoor to outdoor, we would be successful," said Muller of the eight-lap race. "It felt really good to win a medal as a team and share the moment with someone."
Muller almost had a fifth medal, a bronze in the long-track mass start event. Originally slated for last Wednesday, Muller finished with a bronze medal, but a tracking equipment malfunction had skaters doing 11 laps instead of 10. Consultation between refs and coaches had an agreement that the event would be done over again the next day on Thursday, Feb. 21. Unfortunately, Muller registered a DNF (did not finish) due to the unpredictability of mass start, as he was taken out by a fall.
"It was going fairly well until the last lap. Me and one of my teammates had fallen in the second-last corner. So that was sort of our medal hopes going out the door," said Muller. "It's a bit of a wild-card event. You can't predict what people will do around you. It's part of the sport, it's a part of the race in mass start. Somebody had fallen inside of me and I was trying to pass them on the outside. I was in a position to probably get a medal."
Muller competed for Team Alberta at the 2015 Canada Winter Games in Long Track Speedskating and at the 2017 Canada Summer Games in Mountain Biking.
Muller has one more competition for the long-track speed skating season in the Canada Cup 4 in Calgary in mid-March.