Rec board looks at Confederation Park improvements
Posted on February 20, 2019 by Taber Times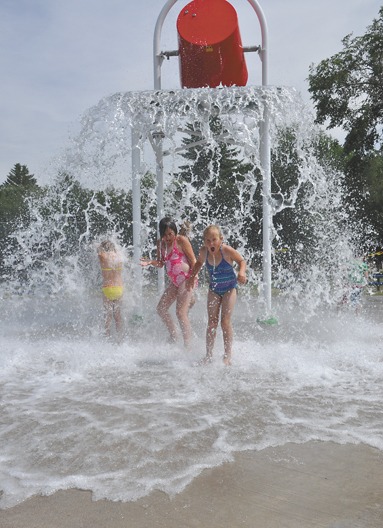 TIMES FILE PHOTO
By Greg Price
Taber Times
gprice@tabertimes.com
Discussions are ongoing where the Taber Spray Park and Confederation Park may see additions for families to enjoy.
While attending a "Coffee with Council" engagement, town council members received a couple of requests for additions to recreation facilities. The first request was for a tot table to be added to the Taber Spray Park, which would allow younger children a space designed more for them. The second was for the addition of a swing for an adult and child to share. This would allow for a caregiver to share in the experience with the child and be more engaged.
Council had asked administration to bring these requests back to the recreation board for its direction and feedback.
Recreation board members were given numerous examples and specs of what the two pieces of equipment would look like at its Feb. 7 meeting.
"I will say about the tot table, in my previous community, I saw in the spray park it went in the summer and when I started in the fall (previously), and I thought who was going to play with this? You push a button and there's no automation to it. But it was probably the most popular piece there for the toddlers," said Dawn Phillips, director of recreation for the Town of Taber. "And the tandem swings are becoming a more popular feature."
The tot table had a quote submitted by interested citizen Lindsay Anderson of $14,834, which didn't include installation. Tandem swings had quotes ranging from $1844.34 to $2,642.09.
Recreation board chairman Danielle Hansen inquired at what stage was the town looking at the playground area being wheelchair accessible at Confederation Park.
So far, $25,000 worth of grants have been approved towards the initiative where more grant applications have also been sent, but not approved yet.
"Our hope is to hear back from these by summer and have it installed by fall, because no funds have been budgeted," said Phillips.
"So maybe we should look into the tandem swing, not just for a toddler, but maybe say an adult with special needs. Then we could potentially do it all at once," said Hansen. "From some of the swings I'm seeing here, it doesn't address that (special needs)."
For the tot/water table, Hansen wondered if it was a cost that was too soon/too fast given the relative newness of the facility (four years) that saw a lot of community-minded people raise funds for.
"I don't think we've had the water park long enough to be removing parts. I think it's a great addition for down the road to keep the interest of the citizens to keep coming and using it ," said Hansen.
Recreation board vice chairperson Darcy Firth added he liked the idea of the tot/water table. Having a young family who has visited various other water/spray parks who have had the same equipment, he too has seen plenty of foot traffic to the feature.
"I take my kids to the science centre and they do have a water table there, and it's always the busiest part," said Firth. "If it's just taking away a couple of pieces and putting something in and the cost is relatively low, then it's an easy decision. When I'm out there, I do watch what kids use and there are pieces that don't get used as much as the rest of them. Losing that piece won't mean much."
Municipal District of Taber recreation board representative Tamara Miyanaga was in favour of the addition, but noted the lifespan should be evaluated of the spray park and which parts are in prime condition and which may need replacing should be considered as inventory before any further expansion happens.
"It was quite a community initiative to put the spray park together and I don't think those community members ever felt it was going to be just one and one. There is still some interest for expansion," said Miyanaga. "I'm not sure what the lifespan is of all our equipment."
One issue Phillips cautioned, is because toddlers could climb up on the tot water table, they sometimes have better fall material underneath for safety reasons.
"We would have to look into if we need to replace some cement, or have its own little area with other material because you have two-year-olds climbing on it and falling. It's just something to look into and keep in mind. It was my understanding that we needed fall material because of that," said Phillips.
Taber Recreation Board passed two motions unanimously to direct administration to research the cost and resources required for the addition of a tots table to the Taber Spray Park and an adult/child swing to Confederation Park, along with examining the lifespan of the features at the spray park.