Cake auction raises sweet funds for Barnwell School
Posted on February 20, 2019 by Taber Times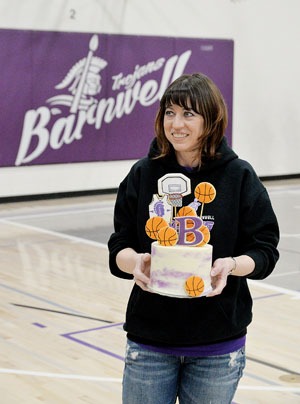 COURT CAKE: Grade 2 teacher Carrie Campbell showcases one of the many cakes up for auction that led to the school raising over $11,000 in the hugely-successful event. TIMES PHOTO BY GREG PRICE
By Greg Price
Taber Times
gprice@tabertimes.com
The charity cake auction/basketball game extravaganza continues to be a big hit for Barnwell in the money it is able to raise for the school.
Last month's auction (Jan. 31) was able to raise over $11,000 thanks to the creative flair of community members in its many unique cakes that were auctioned off for those with a sweet tooth.
This year, top bidders also got some of the best seats in the house in the Barnwell School gymnasium to watch the Barnwell Trojans girls and boys basketball games, along with free access to concession goodies. An event that is circled in the community every year which brings a standing-room only crowd to the school gymnasium, the focus of the funds used to solely be on athletics. Now, in recent years, that gaze has expanded.
"We've adopted a philosophy of Barnwell School excelling in the three As —academics, art and athletics. Over the years, initially, the cake auction was just an athletic venue that paid the bills," said Aaron Edlund, vice principal and athletic director at Barnwell School, who helps organize the cake auction every year. "Now, we are finding that we are generating enough funds to support all three things. Basically, a teacher goes to our principal and says I need a new tuba or new paint brushes or whatever. It all goes into our school-generated funds where we can use the funds for whatever we see fit to move along the three As."
Edlund said he still uses some of the funds to buy new balls here and there, but added hoarding all the funds solely for athletics does not allow the school to thrive as a whole.
"The staff members here are dedicated and stay pretty late, it's not just the sports-minded people that are putting in the whole night of work for this (cake auction and basketball games). Everybody is entitled to the funds and it's about building community," said Edlund. "There's people who prefer the arts and the theater program. There are dollars that go towards things like that."