Rebels battle tough in split of games
Posted on February 13, 2019 by Taber Times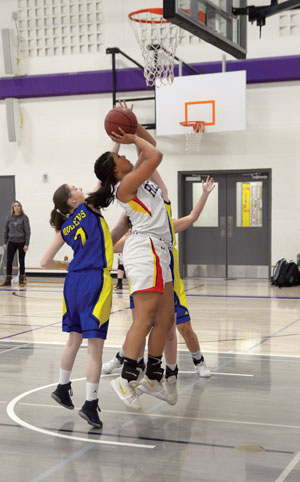 HOOPS: Kitawna Sparks of the W.R. Myers Rebels puts up a shot in the post against defensive pressure during the Rebel Classic held earlier this month. TIMES PHOTO BY COLE PARKINSON
By Greg Price
Taber Times
gprice@tabertimes.com
W.R. Myers Rebels varsity girls basketball team split it pair of Southern Alberta High School Girls Basketball League games this past week.
Saturday's road game featured a 80-66 victory over Catholic Central Cougars, as the Rebels were able to hold onto its 10-point half-time lead for the duration.
Four Rebels were able to finish in double-digit scoring, including Kitawna Sparks who had the double-double of 21 points and 14 rebounds.
Alex Haller had 13 points and Austen Robbins chipped in 12. Rounding out the scoring was Anika Steed with 11 points.
"We were able to build a slight lead in the first and second quarter, which ended up to be enough to keep the Cougars chasing us for the remainder of the game. We struggled a bit cleaning up the defensive boards which allowed the Cougars multiple attempts to score," said Kenney Wood, head coach of the W.R. Myers Rebels varsity girls basketball team. "These extra shots gave them an opportunity to keep the game somewhat close. We will need to get this fixed and also learn how to keep our intensity up for 40 minutes. We are looking forward to our game on Wednesday against Cardston and hopefully can steal one back on their home court."
Last Wednesday saw the Rebels drop a 70-57 decision to Magrath Pandas at home. The Rebels played the top league team tough, clinging to a five-point lead at half.
Sparks had 12 points to go with 14 rebounds. Haller and Halle Johnson both had nine points apiece.
Dani Wright hauled in 11 rebounds.
"We told the team that we have zero pressure going into this game. Magrath is undefeated in league and is sitting in first place. On paper, they are supposed to win. With that in mind, we came out and played a great first half and found ourselves up by five," said Wood. "Unfortunately, we came out very flat in the third and lost our momentum that we had gained. We played a good fourth quarter, but just couldn't make up the difference. The team saw that when we work together, we can compete with any team. We are continuing to work together and to move the ball better. When we do this, we are a very tough team. We are still building, and hopefully will make the necessary steps to be playing our best basketball in March."
The Rebels battle Cardston Cougars today on the road. It will be a junior varsity contest only on Friday at home against Chinook.
The Rebels travel for a Wetaskiwin Composite High tournament Feb. 22-23.