Myers girls take curling zone banner
Posted on February 13, 2019 by Taber Times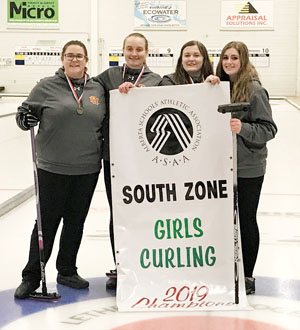 ROCK STARS: The W.R. Myers girls curling team battled back in dramatic fashion against Vulcan County to take the South Zone banner at the Lethbridge Curling Club last week. TIMES PHOTO SUBMITTED BY ANDREA MAKARCHUK
By Greg Price
Taber Times
gprice@tabertimes.com
It was an episode of Golden Girls at the South Zone high school curling playdowns last week at the Lethbridge Curling Club for a W.R. Myers rink.
The rink of Alanna Makarchuk (skip), Jordyn Clarke (third), Jessi Young (second) and Ashleigh Little (lead) earned the gold medal with a thrilling 6-5 victory over Vulcan County in a match that had plenty of intrigue and good shots.
The Myers rink swept its round-robin pool against LCI and Vulcan, giving the rink a bye to the semis on the second day. The pool ended up being the stronger one as W.R. Myers once again faced off against LCI in the semis, winning easily.
W.R. Myers would find things not quite as easy in the gold-medal game which saw the rink trailing for the first time at zones.
"We were up 4-3 after the first four ends and Vulcan would take two in the fifth end to be up one on us and then took another in the sixth end to be up two," said Andrea Makarchuk, head coach of the W.R. Myers Rebels girls curling team.
Myers would end up answering back with two of their own in the seventh, but not having the hammer coming home.
"There were some amazing shots made by both teams, including the thirds by both teams," said Makarchuk.
Skip Alanna Makarchuk made a tight draw with her last rock, being about a half rock out from guards and a counting rock in the house.
"The other skip just had to hit it, where she didn't need for it to stick around to win. But she was wide and missed," said Makarchuk.
The Myers girls rink had to flip the switch for the gold-medal game compared to their previous matches where cushions in points changed up game plans.
"Your strategy had to be a lot different in that last games versus the other ones. The other ones, they stole a ton of ends and this one was a real battle," said Makarchuk. "You really had to change how your game play was. The girls had their draw weight and was very consistent. Most of the time they were behind the broom and their strategy from game to game was solid."
LCI would end up beating Eagle Butte in the bronze-medal game 10-5. The team beat St. Mary School to get out of divisionals, which set the stage for its successful zone run. Now the team qualifies for provincials which go in St. Paul, March 7-9.
REBEL YELL: The W.R. Myers Rebels boys curling team also qualified for zones, and made it to the bronze-medal game, in which it lost to Vauxhall. An impressive feat given the youth.
"They are a very young team, made up of four Grade 9s, some who had not even curled before the season. They had a fantastic season as well," said Makarchuk. "They are a team that is really going to grow together."