Water table for spray park?
Posted on February 6, 2019 by Taber Times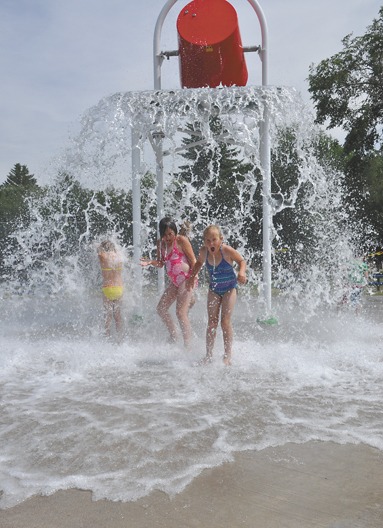 TIMES FILE PHOTO
By Trevor Busch
Taber Times
tbusch@tabertimes.com
Increased efforts at citizen engagement appear to be paying off as town council moves forward with a proposal for a water table at the Taber Spray Park which was brought to them through a new initiative.
"At Coffee with Council, there was a lady who brought up an interesting position for our spray park of adding a water table for kids to use to fill their buckets and throw it around and what not," said Coun. Joe Strojwas during the council requests portion of the Jan. 28 meeting. "I think that would add an interesting corner to our spray park over there. She indicated she had been to Coaldale where they do have one of those. For the little kids, apparently it's a real enjoyment."
Mayor Andrew Prokop was unsure of the cost of such a development, but some tentative numbers had been discussed.
"I also echo that same sentiment. It would be a great idea. She threw out a figure in the $1,500 range. I think it's something that could easily be added."
Coun. Jack Brewin suggested a water table might help bridge an activities gap at the facility between toddlers and older children.
"The recommendation the lady brought to the meeting there was kind of interesting given that it would give the younger children something to do while the older ones are still running around. The more I've looked at it, to me, it should be a fairly simple add-on."
Following discussion, council voted unanimously to direct the Taber Recreation Board to investigate the feasibility of a water table for the spray park, including cost and location.