Rebels girls turn tables at Rebel Classic
Posted on February 6, 2019 by Taber Times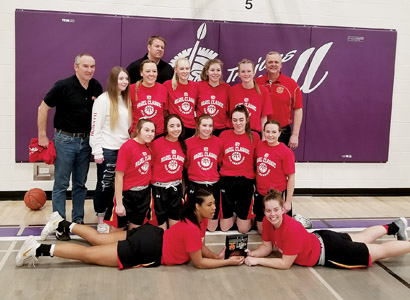 TOP TEAMS: W.R. Myers Rebels varsity basketball teams ran the table in their respective divisions on the way to a tournament title at the Rebel Classic. The boys team won their championship with a dominating victory over Bert Church Chargers, while the girls team vanquished Wetaskiwin. TIMES PHOTO SUBMITTED BY DERRICK KRIZSAN
By Greg Price
Taber Times
gprice@tabertimes.com
W.R. Myers Rebels varsity girls basketball team got a mark of revenge in its championship run at the Rebels Classic this past weekend.
The Rebels were able to beat Wetaskiwin, the team that won the Rebel Classic last year, 76-65, thanks to building a 19-point lead heading into the final quarter.
"Wetaskiwin fought hard that last quarter, but our lead from the other three quarters end up being too much for them. Marty, Brandon and I are extremely happy the girls could once again be champs of the Rebel Classic," said Kenney Wood, head coach of the W.R. Myers Rebels varsity girls basketball team. "All the girls contributed to the win, but our seniors really worked hard in their final classic tournament, and would not be denied."
Kitawna Sparks had 15 points to go with 13 rebounds in the victory. Austen Robbins also had 15 points. Sophie Simek hit for 13 points. Dani Wright hauled in 10 rebounds.
The Rebels kicked off its tournament run with a dominating 74-25 victory over Vauxhall Queens on Friday.
"Everyone got on the scoresheet. We came out very strong and were able to build quite a sizable lead by the half. We were able to substitute quite frequently, and we were able to keep the pressure on and never let the Queens get back into the game," said Wood.
Anika Steed had the double double of 10 points and 10 assists. Simek also hit for 10 points.
Rebels girls made their way to the championship final in Saturday with a big 85-60 win over Bowness Trojans. A two-point lead after the first quarter, became a 17-point lead at half.
"Started off a bit slow defensively, but really clamped down in the second quarter, only allowing seven points. The girls played extremely hard in the fourth and put 27 points up in the final quarter which put the game out of reach," said Wood.
Sparks poured in 30 points to go with 14 rebounds. Robbins contributed 12 points. Wright had the double double of 10 points and 10 rebounds. Steed also scored 10 points.
W.R. Myers Rebels varsity girls basketball team returns to league competition today, with a home game against Magrath Pandas. Junior varsity is at 6 p.m. with varsity to follow at 7:45 p.m. The team then hits the road on Saturday for a game against Catholic Central Cougars.