Muller looking to make mark at Winter Games
Posted on January 30, 2019 by Taber Times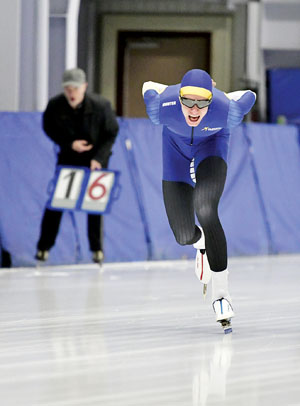 SPEEDY: Kaleb Muller pushes himself in the 5,000-metre event at Canada Cup 1 in Fort St. John, as coach Mike Marshall encourages him in the background. TIMES PHOTO SUBMITTED BY STACI MULLER
By Greg Price
Taber Times
gprice@tabertimes.com
The stakes have never been higher for Taberite Kaleb Muller at the upcoming Canada Winter Games.
This will be Muller's third trip to the Games in either a Winter or Summer capacity, and while Muller was seen as one of the underdogs in previous Games, he will be seen as a favourite this time around.
Not only has Muller competed in three separate Games, it has been in three separate disciplines.
His first winter Games was in short-track speed skating, his Summer Games appearance was in mountain biking and the one upcoming in February in Red Deer will be in long-track speed skating.
"I've enjoyed many different sports growing up, so transitions weren't too difficult. I didn't find it too tough," said Muller, who was a multi-sport athlete in his time at St. Mary's School.
Completely doing long-track now, Muller's season has seen a bell curve of improvement. At the Canadian championships, Muller earned fourth in the 5k.
For long track at the Upcoming Canada Winter Games, Muller will be competing in the 500-metre, 1,000-metre, 1,500-metre, 5k, team pursuit and mass start.
"Short track, it's more strategic. It's not like long track where you are racing against the clock. You are racing your opponents. There are of course some longer distances in long track which is why I wanted to switch over," said Muller. "I'm much better at the longer distances. The longer distances, you want to stick to your game plan. If you go out too hot, you are going to feel it by the end."
Muller has an eventual dream of competing for Canada at the Winter Olympics, where speed skating is his best chance as a former multi-sport athlete.
The upcoming Canada Winter Games should be a solid stepping stone to that dream, as Muller will not be fully in the cross hairs of his opponents as one of the leaders of the pack.
"The other two Games, I was just sort of there for the experience and to participate. This year, I'm going there to win some medals," said Muller. "Beginning this year, I've transitioned from being a junior to being a senior now. I've been racing the top guys in Canada already and so I know where I need to be. This Canada Games is 20 and under, so I'm at the top of the age range. I'm expecting to do well and win some medals."
Muller's training has been two hours on the ice every day in the Calgary area, has a break for lunch, then goes on the ice for a couple more hours or is on the bike to go with weight training, along with taking a class at SAIT.
As part of Team Alberta, the Lethbridge Speed Skating Association skater will be joined on the team by Joshua Hathaway, Paul Coderre and Max Halyk.
Muller has also competed at the World Juniors in 2018 and the 2015 Canada Winter Games Short Track experience for international competition as part of the National Development Team.
The Canada Winter Games go Feb. 15 to March 2 in Red Deer. Muller's events are scheduled for Feb. 16-20 with Feb. 21-22 as contingency days for weather delays.
As a warm up, Muller competed in Canada Cup 3 this past weekend.
"The Olympics are still three years away and I still have a ways to go. A lot can happen in three years. But, three years ago, I wasn't even near where I am now," said Muller. "It keeps me motivated to keep pushing."