Celtics take silver at home tourney
Posted on January 23, 2019 by Taber Times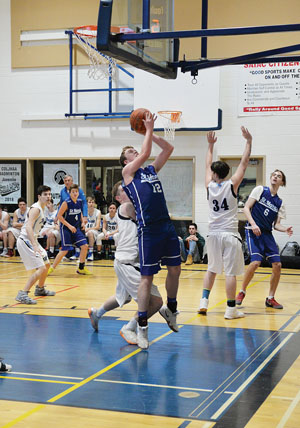 SHOOTER: Tyrell Martens of the St. Mary's Celtics varsity boys basketball team goes up for a shot against Kate Andrews Pride on Saturday at the Celtics Double Blue Tournament. TIMES PHOTO BY TREVOR BUSCH
By Greg Price
Taber Times
gprice@tabertimes.com
St. Mary's Celtics boys basketball team took a second-place finish at its invitational Double Blue Tournament this past weekend.
Turnovers were the difference, as the Celtics fell 83-60 to Claresholm in the championship final on Saturday.
The Celtics were outscored 31-12 in the second quarter, making for a deficit they never could recover from.
"It was frustrating. We couldn't handle their press. Lots of easy points for them," said Ken Gabruck, head coach of the St. Mary's Celtics boys basketball team. "It was frustrating because it was something we have worked on (practice) and we didn't execute at all. It was a turnover in our own end, or we would get out of the press and then get it over the centre line and then do an unforced turnover."
Claresholm is ranked fourth in the province for 2A boys basketball teams and the Celtics, beyond the huge second-quarter blemish, were able to stay with the team.
"Basically, we stayed with them for three of the four quarters," said Gabruck. "It was the second quarter that put us behind the 8-Ball."
Tyrell Martens had 28 points and 11 rebounds for the Celtics. Carl Rodrigo had 10 points. Beau Huseby hauled in 12 rebounds.
Celtics demolished its opening opponent on Friday with a 77-35 win over Nobleford.
"Everyone got in the game and got some good minutes. I think they (Nobleford) are a team that could be better, but just not playing to their potential," said Gabruck. "Defensively, they commit too many errors."
Jonathan Vanderbeek had 12 points and 14 rebounds. Rodrigo and Martens both had 10 points apiece.
The Celtics home tournament featured what Gabruck felt was the team's best game of the season to date in a 87-64 victory over Kate Andrews from Coaldale, to propel St. Mary's to the championship game.
"As a team, this was our best all-around game of the year, both offensively and defensively we played well," said Gabruck.
Rodrigo had a team-high 25 points as Gabruck praised his performance.
"He ran the offence, we went up tempo and we moved the ball well," said Gabruck. "He forced the issue and went to the hoop well, and was able to pass off for good-looking shots."
Martens added 21 points and Huseby added nine points to go with 10 rebounds.