Oil Kings continue winning
Posted on January 16, 2019 by Taber Times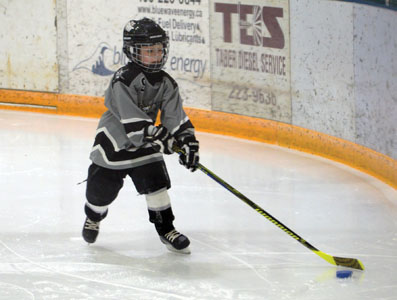 ICE PLAY: Luca Nielsen of the initiation Oil Kings 1 takes the puck behind the net during this past weekend's initiation tournament held at the Taber Arena. TIMES PHOTO BY COLE PARKINSON
MIDGET: Taber midget Oil Kings won both of its hockey matches on the weekend, starting off with a 4-2 doubling of Vulcan Hawks at the Taber Arena on Friday.
Cole McLelland and Byron Kress each had two goals. Peyton Poncelet had two assists and McLelland, Brylan Span. Shea Hathaway, Spencer Phillips and Michael Stronge each had a single helper. Blake Van Beers was solid in net for the win.
The team traveled to Picture Butte on Sunday and won 6-2.
McLelland had the hat trick and Kress, Phillips and Brayden Kaye had singles. Jack Murphy had two assists and Phillips, Poncelet, Kress, Span, Luke Bell and Joseph Fabbri had single assists.
NOVICE: Taber novice Oil Kings kept its Central Alberta Hockey League record undefeated (10-0-0) with a 9-5 road victory over Carstairs on the weekend.
Dane DeGraw had two goals and two assists, while Lincoln Wiebe had two goals. Delphin Deboer has one goal and two assists, while Ethan Volk had one goal and one assist. Madix Miller, Jenner Workman and Julian Woordman each had singles.