Celtics ready to host home tourney
Posted on January 16, 2019 by Taber Times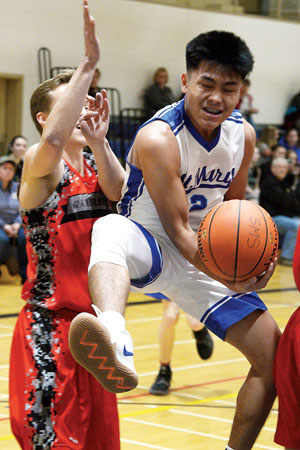 PAINT BALL: Emanuel Adra of the St. Mary's Celtics boys basketball team attempts a circus shot driving the lane against Milk River in River Ridge Basketball League play last week. TIMES PHOTO BY GREG PRICE
By Greg Price
Taber Times
gprice@tabertimes.com
The St. Mary's Celtics varsity boys basketball team knew they were going to be in tough at a tournament at Immanuel Christian in Lethbridge this past weekend.
That prediction came true with an 0-3 record, although playing some competitive basketball in two of the three contests in the round-robin format.
"We knew we were going up against tough teams and it was exactly how it turned out. Every game was a battle or a struggle," said Ken Gabruck, head coach of the St. Mary's Celtics varsity boys team.
The Celtics suffered a tight 81-79 loss to Fernie in its opening game, leading by five points at half.
"We led for most of the game, up until the last two-and-a-half minutes," said Gabruck. "In those last two minutes, we had a couple of opportunities, didn't convert, then they came down the floor and converted."
The Celtics' struggles at the foul line, shooting only 38 per cent, didn't help.
"We sort of let the game slip away. Anytime you lose a two-point game, you can look back and if you're not shooting 65 to 70 per cent from the foul line, you aren't going to win those close games," said Gabruck.
Emanuel Adra had 27 points in the game, scoring 18 points in the first half off of six threes. Jonathan Vanderbeek added 16 points and Tyrell Martens chipped in 12. Beau Huseby rounded out the double-digit scorers with 10.
The Celtics played a familiar foe in its second game in Calgary Christian, a team they had lost to by 10 points earlier in their first game of the season. It was more of the same at the Immanuel Christian tournament in a 68-57 loss.
"We hung with them for most of the game, but they played a full-court pressure for the full 40-minute game. You get a couple of turnovers that go the other way for easy points and that was about the difference in the game," said Gabruck. "But as a whole, we played quite well in our first two ball games. Our small guys handled the ball well, our big guys controlled the boards and we were able to stay with these two teams even though we didn't win."
Martens had 17 points and Adra had 15 points.
The Celtics last game of the tournament was against host Immanuel Christian where the Celtics were dominated for three quarters in a 97-48 loss.
"They have a very good team. It's very solid all around, plus they have a couple of players who are super stars. They can shoot threes from anywhere and they can take the ball to the hoop as well," said Gabruck. "We stayed with them in the first quarter (19-17), but their second quarter, they outscored us 28-13 which put us in a big hole. Looking at the last three quarters, they pretty much schooled us. They did everything correctly and did a lot of things we were unable to handle. The question is, did we learn something from that, that we can use moving forward with some of the good things that they did?"
Martens had 12 points in the game and Carter Hendricks and Carl Rodrigo each had nine points apiece.
In River Ridge Basketball League competition earlier in the week, the Celtics beat Milk River 84-44.
"We definitely played an improved Milk River team from the first time we played them. They hung with us in the first half (36-28), but then we outscored them 27-8 in the third quarter," said Gabruck. "We were eventually able to wear them down. Our big guys worked under the basket better and they rebounded much better than the start of the game."
Martens had 18 points in the victory and Rodrigo and Vanderbeek had 16 points apiece.
The Celtics now prepare to compete in its home invitational tournament on Friday and Saturday. The eight-team draw features the host Celtics, Warner, Willow Creek, Picture Butte, J.T. Foster, Noble Central, Kate Andrews and Matthew Halton.
"Willow Creek Composite is very, very strong. I would look at them as the team to beat," said Gabruck.
The Celtics open up against Nobleford on Friday at 6 p.m. A win puts them at a 1:15 p.m. Saturday game against the winner of Kate Andrews/Matthew Halton. The championship game goes Saturday at 8:15 p.m.
"We definitely want to get to the final, there's no doubt about that. If we don't get to the final, we will be a little disappointed."