Auroras win title
Posted on January 16, 2019 by Taber Times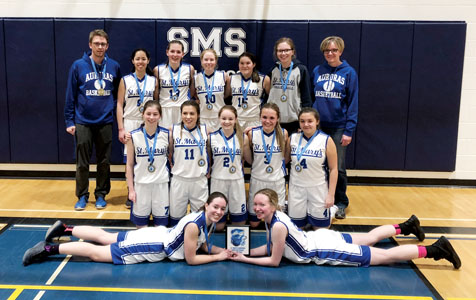 TOP TEAM: It was a team effort which netted the St. Mary's Auroras girls basketball the championship title at its home tournament. TIMES PHOTO SUBMITTED BY ROSE GINTHER
By Greg Price
Taber Times
gprice@tabertimes.com
St. Mary's Auroras girls basketball team ran the table on the way to a championship at its invitational tournament over the weekend.
The Auroras were able to upend St. Mike's from Pincher Creek in the game championship game, 72-57 on Saturday.
Kourtney Bos poured in 21 points and Nicole Wolaniuk added 17. Emily Ginther chipped in eight points.
"Our offence played a huge part. Our defence was struggling a little bit, where they had one individual who was quite strong. Nicole got a few fouls on her and so we had to switch up our defence a little bit to manage that," said Rose Ginther, head coach of the St. Mary's Auroras girls basketball team. "Everybody really pitched in and our bench was solid. We ran them and their team looked pretty tired later on in the game."
The Auroras started its home tournament with a 74-52 victory over Willow Creek on Friday.
"The first half, we really couldn't find our groove at all. But, the second half was much better," said Ginther.
The Auroras made it to the championship final with a 63-41 win over Three Hills on Saturday afternoon.
Wolaniuk had 17 points and Bos netted 16. Ginther and Hallie Horvath both had eight points apiece.
"Three Hills looked really strong in previous games and our girls really came out prepared for them. We got lots of minutes in for our bench as well," said Ginther. "We knew they were quick and Nicole Wolaniuk and Hallie Horvath really got the game running for us. We also got some strong inside points and rebounds from our post players, especially Kourtney Bos. We didn't give up a lot of second-chance points that game. They didn't have a lot of height either."
The Auroras have a JV game on the road on Thursday in Coaldale where the Auroras' Grade 12s will not be playing. The team then hosts Senator Gershaw Gators on Monday at 6 p.m.
"Coming back from Christmas break is always tough and we've noticed what we need to work on. Against Senator Gershaw from Bow Island, we are hoping to continue on where we left off on Saturday night, running the basketball and being able to get it into our post players and take advantage of our height advantage," said Rose. "Right now, the league is anybody's league."