Roberts waits 12 years to take her shot
Posted on January 9, 2019 by Taber Times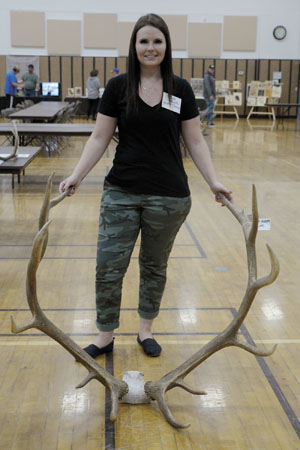 RACK IT UP: While not confirmed at the time, Steph Roberts' elk she took to get measured on Saturday is sure to enter record book lore. TIMES PHOTO BY GREG PRICE
By Greg Price
Taber Times
gprice@tabertimes.com
There was plenty of buzz going around the Taber Fish and Game Association's Annual Measuring Day this past weekend at the Taber Community Centre Auditorium.
Plenty of record-book worthy submissions were the talk of organizers, including that of an elk bagged by Steph Roberts, her third in her hunting career, with the most recent being the most impressive.
Roberts was introduced to hunting by her family at an early age, where she would go with her dad on the back of his quad as a seven-year-old in her car seat. Roberts waited 12 years to get a tag to shoot the elk in question.
"I had hunted seven days on horseback in an isolated zone in the corner of the province. We didn't find him while we were horseback hunting," said Roberts. "It's only a 14-day season. You wait all these years to have 14 days to hunt an elk."
Undeterred by coming up empty earlier in the horseback hunt, Roberts would go a couple more times in her final days in elk hunting season, where she wanted something that would score over 300, with 350 making the record books.
"They measure the length of the main beam, from the base of the skull to the tip. They measure the length of all the points, the girth of all the points and they will also measure if there is any abnormalities from one side to the other (unsymmetrical), that's a deduction," said Roberts, in explaining how submissions are scored to the layperson.
Some hunters can go a lifetime without bagging some animals whose opportunities are rarer than others. Nearing the end of her 14-day window, Roberts was at work and her dad and husband were out of town. Getting to the last two days of the season, Roberts decided to leave at lunch and went out by herself to her hunting spot.
"A friend of mine was spotting in the area and he saw what he thought was a smaller bull. I was OK with that because it was the end of the season and I wanted the meat. I'm a very big meat hunter," said Roberts.
After spotting him, Roberts crawled in for a three-mile sneak on him and got 400 hundred yards away. Looking through her scope, the animal was bigger than first expected and exactly what she wanted.
"I actually took him alone, that was pretty cool," said Roberts, who has also shot a giant moose when she was 18 years old which is in the record book, adding she also bagged an antelope that was almost in the record book along with a couple smaller mule deer. "Elk is one of the more impressive animals to get, especially among the male hunting population. Elks and moose are two of the most sought-after animals, mainly because you have to wait so long to get one (a tag) and you can easily be unsuccessful in your hunt. For me, moose was number one, and once I got my moose, I focused on elk."
Hunting tags are priority based in which every year you can apply. If you don't want to go hunting that year, you can still apply and not attach a zone to the application. There are zones throughout the province of Alberta where hunters can apply to which zone they want to go to.
Roberts shot her impressive elk in Zone 102, a well-known zone which has three seasons.
"It is my understanding that they give away four tags per season. So there are 12 tags a year to that zone," said Roberts.
Steph hopes she can transfer her life-long passion of hunting to fellow women and girls.
"I love hunting, I love fishing. I do a youth fishing tournament which we have 600 kids at every year," said Roberts, who is the youth chair of the Taber Fish and Game Association. "I'm super passionate about the outdoors and super passionate about getting women involved in the outdoors. It's a very unpopulated section of that area of the world. I really want to encourage women to get involved."
If you would like to earn more about the Taber Fish and Game Association, or get started in hunting/fishing, you can call Steph Roberts at 403-394-8834.