Oil Kings royalty at Olds tourney
Posted on January 9, 2019 by Taber Times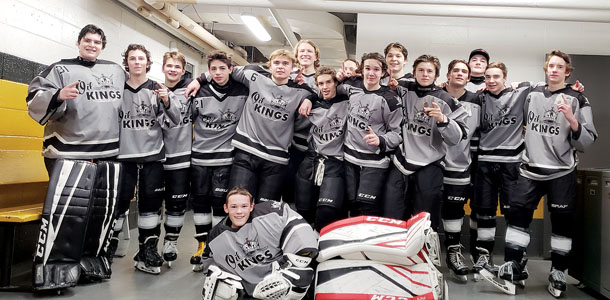 TOP TEAM: Taber midget Oil Kings hockey team earned the championship at a tournament in Olds over the weekend. TIMES PHOTO SUBMITTED
By Greg Price
Taber Times
gprice@tabertimes.com
Taber midget CAHL Oil Kings were tournament champions at its hockey run in Olds this past weekend.
The Oil Kings were victorious in it's final game against Airdrie 8-2.
Byron Kress led the way with two goals and an assist. Spencer Phillips, Dawson Hendricks, Shea Hathaway, Cole McLelland, Joseph Fabbri and Peyton Poncelet each had singles. Phillips drew two assists with single helpers going to Poncelet, McLelland, Braxton Kinniburgh, Brylan Span and Jack Murphy.
Talen Damberger earned the win in net.
Oil Kings started off its tournament run with a 5-0 blanking of host Olds.
Brayden Kaye, Fabbri, Hendricks, Murphy and Poncelet tallied for Taber. Hendricks also drew three assists, with Cassidy Phillips and Kress getting single helpers.
Blake Van Beers earned the shutout in net.
The Oil Kings followed up with a 12-2 win over Nanton Palominos.
Murphy had the hat trick and McLelland, Poncelet and Shea Hathaway each had two goals apiece. Span, Kress and Luke Bell rounded out the scoring with singles. Damberger earned the win in net.
The Oil Kings third game was a 7-2 victory over Rockyford.
Kress potted two goals and Cassidy Phillips, Fabbri, McLelland, Poncelet and Hendricks each had singles. McLelland and Kress both had two assists apiece, with Spencer Phillips, Michael Stronge, Hathaway, Span and Cassidy Phillips getting single helpers.
Van Beers earned the win in net.
NOVICE: Taber novice Tier II CAHL Oil Kings were victorious in both its games it played this past weekend.
The first was an 11-4 victory over the Brooks Junior Bandits on the road on Friday, where coach Chad Wiebe showed some sportsmanship, switching forwards to defence and vice versa after racing out to a 9-2 lead after two periods.
Dane DeGraw and Lincoln Wiebe each scored two goals and an assist, while Nathan Gensorek had two goals.
Delphin DeBoer had one goal and two assists and Ethan Volk had one goal and one assist.
Nate Kramer, Madix Miller, and Julian all scored singles. Jenner Workman helped his team with three assists, while Kellon Schalk had one assist.
The Oil Kings returned home on Sunday against the Cremona Cowboys and recorded a 9-0 shutout at the Taber Arena.