Year in review 2018 – looking back at last year in sports
Posted on January 2, 2019 by Taber Times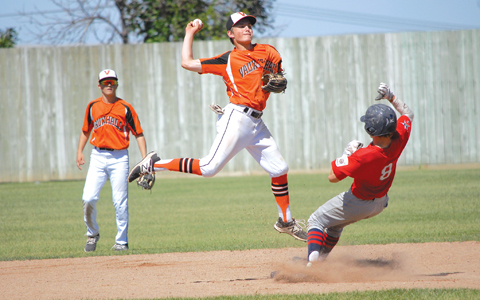 TIMES FILE PHOTO
JANUARY: Entries were on the upswing at 2018's Taber Fish and Game Association Annual Measuring Day with 165 at the Taber Community Centre Auditorium.
The W.R. Myers Rebels varsity girls basketball team was able to withstand a furious fourth-quarter comeback by host Lindsay Thurber Raiders from Sherwood Park to take home the gold medal in tournament play.
St. Mary's Celtics earned the title at its home tournament in a battle of two 1A provincial powers.
The Celtics managed a 80-69 victory over Stirling in the championship game involving two provincially-ranked teams that were tied at the half.
The Taber Community Centre will be undergoing extensive cosmetic surgery this year following a flurry of project approvals by town council totaling over $900,000.
A pioneer who helped blaze the trail to help make the Vauxhall Academy of Baseball (VAB) what it is today, Scott Hornstra tragically lost his life to a snowboarding accident on Dec. 31 in Whitefish, Montana.
Hornstra played for the VAB Jets in its inaugural year before moving on to a have a tremendous college career at Colby CC in Colby, Kansas, then Mississippi Valley State.
"You look back to 12 years ago with our first year, Scott was certainly a trailblazer being one of the first-ever Jets. But, what stands out for Coach K (Jim Kotkas) and I's minds probably as much as anything was Scott was never the biggest, strongest or fastest player, but he was extremely talented and extremely competitive," said Les McTavish, head coach of the Vauxhall Academy of Baseball Jets, who attended Hornstra's funeral and reminisced about Hornstra the player.
Taber atom 'B' Oil Kings took silver in its home tournament.
Taber Gymnastics Fitness Club competed in its first event of the season, and it just so happened it was the first time the club went south of the border. The event was featured in Kalispell, Mont. with a dozen different teams competing. Making the trip were Camryn Coney (JO Level 6), Rowyn Coney (JO Level 6), Tayla Silver (JO Level 6), Blaze Hansen (JO Level 4), Jahlee Daisley (JO Level 3), Tayla Hansen (JO Level 3) and Rhyan Hazell (JO Level 2).
FEBRUARY: After months of consultation with user groups, the Taber Recreation Board has made its recommendation to town council on the future of ice sports in town. Overall feedback pointed to renovating the existing small ice surface as opposed to other options involving creating a second large ice surface at the Taber ice arena. It is a sentiment the Taber Recreation Board echoed in an unanimous motion at its Februray meeting.
W.R. Myers Rebels varsity girls basketball team earned bronze at its Rebel Classic home tournament on Saturday.
The Rebels were pushed to the third-place game after suffering a tough 68-63 loss to Brooks Buffalos in the semifinal.
Taber novice Oil Kings ran the table on the way to the gold medal at a tournament in Bassano.
Taberite Kaleb Muller has qualified for the biggest stage of his young speed skating life. Muller was named to the Junior National Team for long-track speed skating after impressive performances at the selection championships at Fort St. John in British Columbia.
In one of the best 'A' event finals in recent years at the Taber Ladies Bonspiel, there was plenty of drama between two Lethbridge teams as skip Nanette Dupont had a come-from-behind victory to earn the championship with teammates Kendra Nakagama, Shirley Kohuch and Avice DeKelver.
Dustin Church has been giving powerbombs of entertainment as part of his stage mystique as bad guy 'Cyanide' with Pure Power Wrestling in Lethbridge.
Growing up for most of his formative years in Taber in his youth, becoming a professional wrestler was always a dream of Church who is an avid fan of sports entertainment.
Chamberlain Panthers from Grassy Lake prowled its way to the Tier II championship in Horizon Basketball League competition earlier this month.They did so in impressive fashion, not dropping a game along the way in league play. The Panthers finished off its perfect league season (11-0). Earlier the team beat Taber Christian in the semifinal.
Still an infant when it comes to amateur boxing, Brent Anderson has grown up really fast in the ring on his way to a provincial title in Stony Plain.
Boxing in two matches at 165 pounds on the way to the provincial title, results he gleaned from the fight card were common in his undefeated nine-fight career.
MARCH: Barnwell Trojans boys basketball team capped off an undefeated season in league play and at zones by facing off against a familiar foe in Taber Christian with a 66-54 victory in the 2J championship.
Third time was the charm for the W.R. Myers Rebels varsity boys basketball team when it came to its arch nemesis, the McCoy Colts. After falling to McCoy twice earlier in the season, the Rebels earned a 65-58 victory when it mattered most, in the 3A zone championship.
Although the W.R. Myers Rebels varsity girls basketball team had already punched their ticket to provincials the game before, the Rebels still provided plenty of drama on its way to achieving the 3A South Zone banner. Fighting off a poor shooting performance against host McCoy Colts in the zone championship game, the Rebels gutted out a 71-63 in overtime after being tied 58-58 in regulation.
Taber Figure Skating Club is ending its season with a bang with its year-end skating carnival entitled 'Dreamzzz.' Having the Winter Olympics this year in Pyeongchang County, South Korea, certainly didn't hurt the theme either, as Canada thrived, winning 29 medals (including 11 gold), finishing third overall of any nation in medal count.
The W.R. Myers Rebels varsity girls basketball team showed immense resiliency in securing the 3A provincial banner in Cochrane, with a 63-53 victory over St. Peter the Apostle Spartans from Spruce Grove. Trailing in every quarter heading into the fourth, the Rebels showed their heart by outscoring the Spartans 24-8 in the final frame to secure the championship win.
The Baseball/Softball Enhancement Society has gained some momentum with an endorsement from the Taber Recreation Board. The first push of the society is to get the fourth diamond completed at Ken McDonald Memorial Sports Park as part of a multi-phase proposal.
Body Masters hosted the 2018 Single Event Squat, Bench Press and Deadlift Championships.
There were 76 entries, with most lifters coming from western Canada to compete at this event. There were strong lifters in the mens and womens teenage, open and masters divisions. A total of 40 Canadian records were broken at this contest.
Taber Minor Hockey held its year-end awards banquet at the Taber Community Centre Auditorium.
APRIL: A two-match exhibition tour in Victoria is just what the doctor ordered for the W.R. Myers Rebels varsity girls rugby team.
Handcuffed by unrelenting snow storms that have gripped southern Alberta in recent weeks, the team had minimally been able to practice outside prior to the Easter break trip to Victoria that saw training sessions intertwined between exhibition matches.
The Rebels ended up going 1-1 in its two matches, starting off with a loss to Esquimalt who were powered by three Team BC players that dominated the play.
The Taber Golf Club has a new man at the helm in head professional Erik Gerlock.
Gerlock replaces Mike Dern after two seasons and it is the lack of the changing of the seasons that has proven challenging for Gerlock and maintenance crews at the Taber Golf Club, as links enthusiasts are chomping at the bit to get in the swing of things this spring.
As spring sports are stalled due to the unforgiving nature of Mother Nature in 2018, some accomplishments still resonate from the basketball season that was.
Logan Thibodeau continues to excel in extreme sport, as he was part of a snowmobiling team that took first place at the Riley Suhan Invitational back country race.
The coaching staff of the W.R. Myers Rebels football team will see a lot of changes for the 2018 season.
Grabbing the reins for the head coaching position will be Jason Jensen, taking over from Adam Hughes, who wants to devote more time to his son.
All-stars and MVPs were given out from the River Ridge Basketball League which St. Mary's School competes in, with a handful of players receiving accolades.
It was a team made of Taber Fading Sons that emerged victorious in the 40-plus division in the CAN/AM Challenge Cup: Texas Hold Em Division, in Las Vegas.
W.R. Myers Rebels varsity girls rugby team did a 180 in league play in its road match against Lethbridge Collegiate Institute Clippers last Wednesday.
After getting dominated by Raymond the previous week, the team bounced back nicely with a 58-12 victory over LCI.
Four local fighters made their way to the Toefista Boxing #28 at the Deerfoot Inn and Casino in Calgary, with two emerging with victories.
MAY: Cherilene Payongayong and Christine Agravante continued their medal streak for St. Mary's as they gained a gold in senior girls doubles in Zones and a silver in B girls doubles in provincials.
With a recent local tragedy in mind, the upcoming Paul and Bernice Giroux 'We Have Not Forgotten' Memorial Golf Tournament will be benefitting needed efforts to improve the Taber Agri-Plex facility.
Defenceman Carson Haynes has continued to impress in his young hockey career, as the Taber native has been selected in the 2018 Western Hockey League Bantam Draft that was completed in Red Deer.
There were seven Rebels who participated in the Southern Alberta Minor Football Association (SAMFA) all-star game in Lethbridge on the weekend, as plenty of gridiron talent was front and centre.
Carsen Reid, Aiden O'Connor, Alex Neudorf, Mason Werewka, Cohen Broadbent, Kyler James and Tucker Mouland represented Taber at their various positions with teammates playing against each other, being split into two teams.
As assistance to help enhance their fundraising campaign, the Town of Taber will be accepting charitable donations in association with the Baseball-Softball Enhancement Society to be put towards the construction of a fourth ball diamond at Ken McDonald Memorial Sports Complex (KMMSC) in 2019.
The Vauxhall Spurs are ready for another season of American Legion 'A' baseball.
Some Barnwell Trojans made their presence felt at zones in track and field last month.
Kevin Krizsan earned the zone title for javelin, shattering the old record by nearly five metres in his division, with a 48.68-metre throw.
JUNE: Three seasons, three straight years of provincial Tier III championship banners.
With a rugby program that continues to fire on all cylinders, the W.R. Myers Rebels varsity girls rugby team once again proved to be the top team when the smoke cleared among Tier III provincial adversaries in Calgary.
The Town of Taber and surrounding M.D. area have had a flair for the dramatic when it comes to registering for special events over the years.
At least that is the hope of Southern Alberta Summer Games organizers, as registrations are at a slow trickle as of now, with a June 8 final deadline fast approaching. With the Southern Alberta Summer Games fast approaching in the Taber area in just over a month's time…a call out is being made to those shutterbugs out there that may want to capture the action.
Jake Bradley is a co-chair of the photography competition and is also organizing event volunteer photographers for the Games. Bradley has over 20 years of professional photography himself, but notes, both professional and amateur photographers are being sought out with open arms as volunteers.
Randy Sparks' return to the powerlifting arena was a successful one as he competed at the 100 Per Cent Raw Powerlifting Provincial Championships in Calgary.
Sparks ended up in first in the 110-kilogram division for 60-to-64 year olds.
Vauxhall Spurs have had a solid start to its 2018 American Legion 'A' baseball season, starting off with a 3-1 record.
Nearly 30 swimmers made their way from the Taber Viper Swim Club to the Claresholm Kraken meet this past weekend, with many swimmers clocking top results.
Taber Gymnastics Fitness Club ended off its competitive season in fine fashion at the Coconut Cup in Kimberley, B.C.
There were 14 members of the club who competed with each gymnast saving their best for last.
Town council has endorsed an initiative to create a Regional Recreation Master Plan in 2019 incorporating the shared goals of local municipalities.
Jumpin Josh scored two victories over his former mentor and current Pure Power Wrestling Heavyweight Champion "Cougar Meat" Kyle Sebastian, but his first-ever title win was derailed by "Cowboy" Bryn Watts.
JULY: After having already battled and won against breast cancer, Taber and two-time national barrel racing champion Nancy Csabay is ready to take on her next challenge.
That challenge includes competing against nine other teams in 'The Amazing Race Canada: Heroes Edition", which premiers July 3 on CTV.
Whispers around town continue to get louder over the possibility of a multi-use complex in the Taber area. Cory Armfelt, CAO for the Town of Taber facilities like the curling rink, hockey arena and community centre are pushing 50 years old.
With the Taber Pheasant Festival fast approaching in October, in a joint council meeting been the town and the M.D., both got to see exactly how huge of an impact the event has on the area.
Local hockey player Carson Haynes has taken a next step toward the 2019 Canada Winter Games.
Defenceman Haynes is among 35 from Alberta named to the shortlist earlier this month for the Team Alberta U16 squad that will participate in the Winter Games in Red Deer.
Two players from the W.R. Myers Rebels football team are making their way to compete in the ACG All Canada Bowl in Chilliwack, B.C. Mike Sawatzky was selected to play at quarterback and defensive back and Ashton Werewka was selected to play on the offensive and defensive lines.
The Vauxhalll Spurs baseball club fell short in its quest to make the State tournament, despite going in as the number one seed for the north district tournament in Conrad, Montana which concluded this past weekend.
The Spurs went 2-2 during the American Legion 'A' tournament, running out of gas in the end.
AUGUST: Team Alberta will be trying to go for basketball gold later this month, with a local Taber product helping that cause in the middle.
Kitawna Sparks made the cut for the Team Alberta 17U Girls Team among roughly 50 players that tried out.
It is a quarter to five and families are already forming a long line for registration for the VerSet Skills Camp at the Taber Arena late Sunday afternoon.
Among the many people helping with registration is Kris Versteeg, a 14-year veteran of the NHL.
Two local W.R. Myers rugby products are making their way to U18 provincial teams that are competing at western nationals. Alex Haller will be playing scrumhalf (No. 9). Dani Wright will be playing her flanker position.
The initial registration numbers are in for minor football in Taber, and its president hopes to hit the century mark when all is said and done when locals hit the field in the fall.
It was all in the family for a Taber duo of Andrew and Alanna Makarchuk who competed at the 27th annual Alberta/Montana Junior Ryder Cup earlier this month at the Whitefish Lake Golf Club.
Kris Versteeg signed in the Russian Kontinental Hockey League (KHL) with Omsk Avangard.
SEPTEMBER: Once again the Medicine Hat Tigers left the Taber Ice Arena victorious over the Lethbridge Hurricanes.
With the Lethbridge Hurricanes and Medicine Hat Tigers in town over the weekend for a preseason matchup, a local official had the chance to suit up to work the lines. Taberite Jared Capner, a hockey official of six years, had the chance to don the stripes during the game.
The Taber bantam Rebels started the Southern Alberta Minor Football Association season off on the right foot on the weekend.
In a Saturday-night home game against the Magrath Wolverines, Taber posted an impressive 42-0.
It was an experience of a lifetime for Taber barrel racer Nancy Csabay who hopes her journey on the Amazing Race is an inspiration to her family.
Csabay and teammate Melissa Hollingsworth were the sixth team eliminated from Amazing Race Canada: Heroes Edition.
Initial meetings to try and craft a Regional Recreation Master Plan have been positive, it is now a matter of how many partners it will entail.
Aline Holmen, director of recreation for the Town of Taber and Danielle Hansen, chairperson for the Taber Recreation Board, approached M.D. of Taber council back in early June, in which response was favourable in joining forces with the town for the regional plan.
The W.R. Myers Rebels football team has been like Ebenezer Scrooge around Christmas time in terms of surrendering points — outright stingy in fact as the squad powered itself to its third straight shutout to start its season.
Taber peewee 'AA' Golden Suns started off its 2018/2109 South Central Alberta Hockey League season on the right note with a 4-2 doubling of Lethbridge Hurricanes White in the teams home opener at the Taber Arena.
Grace Holowiski was Down Under at the Taekwon-Do World Cup and came away with some medals in late September. Holowiski competed in patterns, sparring and specialty breaking.
The Taber bantam Rebels football team scored a decisive win in Claresholm. An opening-drive touchdown set the tone for the visitors, as the Rebels rolled to a 41-0 win.
Visions for a regional recreation master plan will not involve Barnwell.
Taber Recreation Board members Danielle Hansen and Darcy Firth were on hand at Barnwell's September meeting to pitch the idea of a regional recreation master plan to align with the Inter-municipal Collaboration Framework to align with shifts in the requirements of the Municipal Government Act. A motion was passed that the Village of Barnwell send a letter thanking the Taber Recreation Board for its presentation, but stating council feels Barnwell does not have a need for regional recreation master plan.
Taber Trout Pond will soon see a variety of runners hit the paved paths.
After James Ebrey presented his idea of bringing the Parkrun program to the Trout Pond to the Taber Recreation Board, he was looking for further support from Municipal District of Taber council during their regular meeting on Sept. 25.
OCTOBER: History will be made come Oct. 2 and the Taber Tout Pond will be showcased in the process.
Horizon School Division will be host to its first-ever divisional cross-country championship.
While Taberite Alanna Makarchuk is now moving into the indoor training portion of her golf season, the outdoor season was not too shabby with impressive finishes at high school zones and provincials. Moving onto provincials in Calgary, the Taberite played rounds at River Spirit Golf Club and Springbank Links Golf Course, shooting rounds of 79 and 83 finishing seventh out of a field of 70 golfers.
To paraphrase Mark Twain, the reports of the death of 'AA' hockey in Taber have been greatly exaggerated.
At the Taber Recreation Board meeting in early October, among discussions about wanting improvements to the small ice surface, comments were made about user groups by administration.
Among those discussions was the belief that 'AA' Hockey would be folding in the area for the 2019/2020 season. At this point in time, the Taber Golden Suns Athletic Association has responded, that is simply untrue.
The Tier III football semifinal at Ken McDonald Memorial Sports Park on Saturday had plenty of drama to it, with the Taber bantam Rebels finishing on the short end of an 18-12 overtime decision against the Lethbridge Cougars that had spectators at the edge of their seat.
As Taber Recreation Board opened up initial discussions on a recreation fee review for November, members bantered about the possibility of making access to the Taber Tennis Courts for free.
While it may be less than ideal baseball weather in southern Alberta at the moment, the Vauxhall Academy of Baseball Jets program is hoping to level the playing field.
Since the beginning of the program in 2006, the team has utilized the Vauxhall Community Hall as their indoor facility, which is less than ideal for the program. The academy has been in search of funds for an indoor baseball facility for the past few years and are coming closer to their goal.
NOVEMBER: W.R. Myers Rebels football team was more than zoned in, in its ASAA South Zone Tier IV championship against the Willow Creek Cobras on Friday night.
Another dominating performance earned the Rebels the south zone banner in a 34-7 victory.
It is a new take on curling that is making its way to rinks across North America, and hopes are it takes hold in Taber as well.
Two-person stick curling is gaining prominence in the sport for those who have mobility issues and those who are new to curling and may be a little intimidated by the regular four-man game.
The season has come to an end for the Taber bantam Rebels football team.
Taber dropped a 42-26 decision on Saturday against the Lethbridge Cougars in the Southern Alberta Minor Football Association Division 'B' championship game.
St. Mary's Storm girls volleyball team finished with bronze at 3J zones, beating Kate Andrews 25-16, 25-20. The team ended pool play 5-1.
The Southern Alberta High School Girls Volleyball League has come to a close, but not before its brightest stars in both the coaching and player ranks were celebrated at its year-end awards ceremony in Lethbridge. Both St. Mary's and W.R. Myers volleyball programs were recognized with Alyssa Pavka and Kitawna Sparks earning First-Team All-Star selections as voted on by coaching peers from other schools in the league.
Two worthy adversaries squared off in Canmore on the weekend to earn a berth into the Tier IV provincial football championship.
Coming down to the last meaningful play of the game, unfortunately, the W.R. Myers Rebels came out on the short end of a 21-20 decision against Canmore Wolverines on the road on a snowy Saturday afternoon.
Both the St. Mary's Auroras girls volleyball team and the St. Mary's Celtics boys volleyball team managed to earn bronze medals at the 2A South Zone tournament at Lethbridge College. The Auroras earned its bronze with a 25-14, 25-18 win over F.P Walshe Flyers. The Celtics won its bronze-medal match with a 25-20, 25-21 win over Kate Andrews Pride.
DECEMBER: Many devoted Taber fight fans made their way to Milk River on Saturday to see the slew of local fighters at Teofista Boxing Series #32.
Headliner Brent Anderson was able to push his record to 13-1 in a fight, with Pro Performance trainer Joel Mills noting Anderson had his hands full in the unanimous decision.
After a rough start to the regular Southern Alberta High School Girls Basketball League season, the W.R. Myers Rebels varsity girls basketball team bounced back with a tournament title in Medicine Hat.
Even the view from the bench proved to be a valuable learning experience for Brayden Peters.
What's better, the goaltender who hails from Taber has brought that experience back to his day job with the Lethbridge midget AAA Hurricanes of the Alberta Midget Hockey League. Peters was called up by the Calgary Hitmen of the Western Hockey League when the major junior squad had some goaltender injuries.