M.D. council looks at baseball softball enhancement
Posted on December 19, 2018 by Taber Times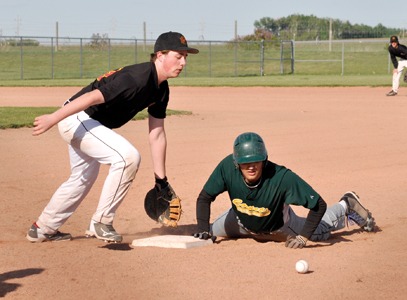 TIMES FILE PHOTO
By Cole Parkinson
Taber Times
cparkinson@tabertimes.com
A local society is continuing to explore how to enhance baseball and softball services in Taber.
The Taber Softball and Baseball Enhancement Society have been working hard over the past several months to finish off the fourth diamond and Ken McDonald Memorial Sports Park and was in search of Municipal District of Taber help in doing so.
"We felt the need in our area that we could provide a better service for baseball and softball for kids," said Rick Popadynetz, a representative of the society at the M.D.'s regular meeting on November 27. "We got a group together, all the softball people got together, the high school team, mixed slo-pitch team and the Mennonite teams came too. It is great to have a broad group of people come talk to us and move forward because we feel the fourth diamond has been dragging and nothing has been happening with that for 20 years. We need to get that facility finished and move on."
While they were in council chambers in search of help, they made it clear they only wanted help with groundwork and manpower.
Overall, the society has been working on a larger project that involves many phases which would benefit all levels of baseball and softball in the area.
The group reported leagues in the area including the Mennonite softball league, Taber slo-pitch, high school baseball/softball and Taber Minor Baseball.
For softball, fields are limited in Taber though softball leagues continue to grow.
"There are two (fields) out at Ken Mac and two at Confederation," said Nathan Cummins, a representative with the Taber Softball and Baseball Enhancement Society.
For high school baseball, there is one field out at Ken McDonald which also doubles as a softball field.
Fields for Taber Minor Baseball are also lacking as there isn't any intermediate or little league sized fields in Taber at the moment. While the society is looking at all baseball and softball needs, they say phase one of their plan is to finally finish off the fourth diamond at Ken McDonald.
"We would like to finish that fourth diamond out at Ken Mac. I don't think it will be too much. I've had Bob Miller out there and talked to him about it. It's not going to be a crazy amount of work, it is already sloped and ready to go. A little bit of dirt work, some fencing and things like that to set up. Convert that high school diamond out there to a softball diamond. That will be four softball diamonds all the same size at Ken Mac, that would accomplish everything the softball people want," said Cummins. "That puts everybody out there, all the tournaments, all the games are held in the same place. We would like to get a concession and a washroom facility would be nice, we don't have any of that there right now it is just porta-potties."
While they hope to convert the lone high school diamond into a softball field, for the time being, they plan to keep it the same until another high school sized facility can be built which is currently slated for phase two.
"This one is a long ways down the road in my opinion but the idea is, we build a new facility for the high school age group that is 60-foot mound and 90-foot base path. We need somewhere for that high school group to play. We can leave that (the current high school diamond) out there as a dual-use until we figure out where we put (the new one)," explained Cummins.
They also want to look at building an intermediate diamond suitable for 13, 14 and 15-year-olds.
While the numbers show that age group is down in Taber Minor Baseball, Cummins says it is largely because kids have to play on teams out of town because they lack the correct diamond.
"The intermediate age group, in the long term, what we would like to see is for that 13 to 15 age group to have a diamond for them to play on," he said. "Up to (age) 12 we are seeing numbers that are great. Immediately after that, it goes down to three, four (kids) because they have to go to Lethbridge to play. There is no diamond here so there isn't a team here. There is no spot for them to play."
With phase two still being a ways off, the group did not have any locations nailed down yet in terms of where the diamonds would be located.
Phase three revolves around little leagues diamonds that would finally offer a proper field for the younger aged kids.
"We would like to convert the Confederation Park diamonds to minor/majors diamonds which wouldn't take a lot either. That would allow us to host some summer tournaments. I actually tried to host one this year which would have brought in eight teams with approximately 11 kids per team but they were booked," said Cummins.
With no available diamonds in Taber due to them being booked for softball, Cummins hosted the tournament in Coaldale which did have the correct sized fields available.
The group is hopeful that phase one can be started in early 2019 with the construction of the fourth diamond.
"Phase one we want to get the M.D. involved. I was at a budget meeting with the town (on November 26) and they approved their funding for us to build this diamond. What we want to do is some groundwork, obviously at the ball diamond this spring," stated Popadynetz. "If you are willing, we'd like to involve you on all the phases."
Craig Pittman, M.D. director of Infrastructure, asked council to sit down with the society to get a clear, defined scope of work and bring it back to council at a further meeting. A motion was made to have the Taber Softball and Baseball Enhancement Society meet with Pittman and for him to bring back the scope of work to council.
The motion was passed unanimously by council.
Councillors Brian Brewin and John Turcato were absent from the discussion. Reeve Merrill Harris was absent from the meeting.