Rebels take tourney title in the Hat
Posted on December 12, 2018 by Taber Times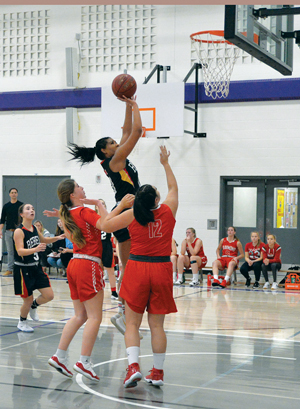 TIMES FILE PHOTO
By Greg Price
Taber Times
gprice@tabertimes.com
After a rough start to the regular Southern Alberta High School Girls Basketball League season, the W.R. Myers Rebels varsity girls basketball team bounced back with a tournament title in Medicine Hat over the weekend.
The squad kicked off its successful tournament run with a 80-54 victory over St. Francis Xavier from Edmonton.
"We learned a little from our earlier Raymond game and came out with much more confidence. We were able to build a lead and kept it," said Kenney Wood, head coach of the W.R. Myers Rebels varsity girls basketball team. "Our press worked well and we were able to get some easy points off of steals."
Kitawna Sparks had 26 points in the victory and Alex Haller added 18 points. Abby Wood chipped in 12 points.
The Rebels escaped with a tight 72-65 victory over Athol Murray College in the semifinals.
"This game was much tighter than it should have been. We once again got off to a good start and scored 23 in the first quarter. We got a little sloppy with the ball in the second quarter which allowed them to catch up," said Wood. "We really had to battle right to the end and we were able to get the win. We really struggled from the foul line in this game, shooting only 31 per cent."
Sparks had the double-double of 33 points and 13 rebounds. Austen Robbins added 12 points and Anika Steed hauled in 10 rebounds.
It set the table for a championship final against the host Medicine Hat Kwahommies in which the Rebels emerged victorious 72-65.
"We again came out quite strong and got the lead right away and were winning by nine at the half. But, we continued to struggle from the foul line shooting only 38 per cent which left 24 points on the line. Usually with that, you don't win too many games, but we were able to hold them off just enough and hit a couple of critical hoops down the stretch that kept us just far enough ahead to secure the win," said Wood. "It's always tough to beat the home team in their own tournament and this game was no different. We have improved each game so far and have gained confidence as well. Marty, Brandon and I are extremely pleased with the effort the girls are putting in. We have lots to improve on, but the team in ready for the challenge."
Two Rebels registered double-doubles, with Sparks getting 28 points to go with 13 rebounds. Dani Wright had 11 points and 10 rebounds. Haller hit for 15 points.
The Raymond game coach Wood was referring to was the squad's home opener last Thursday, in which opening-season jitters were prevalent in a 67-58 loss.
"We came out very nervous and got behind right away. I was proud of the girls that they didn't give up and kept fighting the whole way. We were able to pull ahead in the fourth quarter but couldn't hold on to the lead," said Wood. "We will get better. We missed 21 foul shots, so if we make half of those, this game is a very different one. It was a very exciting game and we had lots of fan support out in Barnwell."
The Rebels host the Kwahommies in Barnwell tonight with junior varsity at 6 p.m. and varsity to follow at 7:45 p.m. The team is off to a tournament in Cardston this weekend before hitting the road for league games on Dec. 19 (Winston Churchill) and Dec. 20 (LCI).