Novice teams pile up wins on the ice
Posted on December 12, 2018 by Taber Times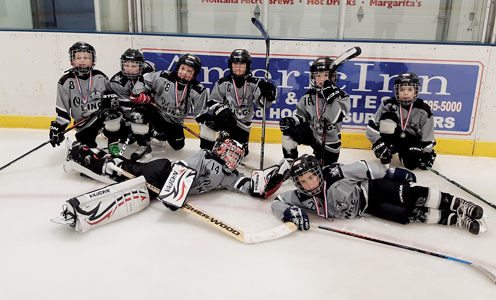 SILVER LINING: The half-ice Taber novice hockey team participated in a tournament in Montana and came away with silver medals. TIMES PHOTO SUBMITTED
Taber novice hockey teams have been in full force as of late, with the half-ice Oil Kings participating in a tournament earlier this month in Havre, Mont.
The team won the silver medal in the U8 category.
Games in the solid tournament included a 15-6 win over Havre 2.
Hayden Eldridge had four goals and Kash Kover, Emmett Ruggles and Ryder Nielsen had hat tricks. Jaxson Badura had two goals.
Jack Lukacs earned the win in net.
The team continued on with a 7-1 win over Havre 1.
Nielsen had a hat trick and Emmett Ruggles had two goals. Kash Ruggles and Eldridge had singles. Lukacs once again earned the win in net.
The team's lone loss was a 6-1 loss at the hands of Great Falls.
Nielsen scored the lone Taber tally.
Taber half-ice Oil Kings ended things off with a 12-0 blanking of Miles City.
Lukacs, Kover and Eldridge each had hat tricks. Nielsen, Badura and Seth Jespersen had singles. Emmett Ruggles had the win in net.
Taber novice CAHL Oil Kings traveled to Carstairs on Sunday to battle in league play and beat the Carstairs Bruins 9-7.
Delphin Deboer had a hat trick, while Dane DeGraw scored two goals and had an assist.
Madix Miller scored two goals, while Lincoln Wiebe had a goal and an assist. Nate Kramer had two assists. Julian Woordman scored a single goal, while Jenner Workman and Mikaelah Clingman each had assists.
Taber novice Oil Kings play at home this coming weekend. They will be playing against Duchess at 10:30 a.m. on Saturday and they will be playing against Redcliff at 10:45 a.m. on Sunday.
MIDGET: Taber midget Oil Kings skated to a 3-3 draw against Brooks on the road on Sunday.
Cole McClelland, Spencer Phillips and Michael Stronge tallied for the Oil Kings.
Phillips, McClelland, Peyton Poncelet and Joey Fabbri drew assists. Blake Van Beers earned the tie in net.