Golden Suns programs earn victories
Posted on December 12, 2018 by Taber Times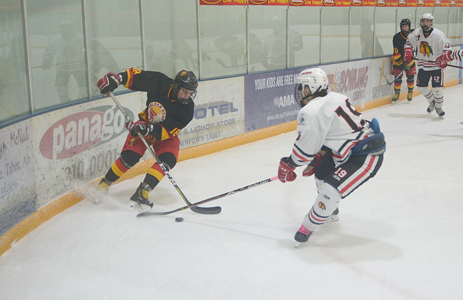 DANCE PARTNER: J.D. Hall of the Taber midget "AA" Golden Suns fences with an opponent in the enemy zone during recent SCAHL play. TIMES PHOTO BY TREVOR BUSCH
By Greg Price
Taber Times
gprice@tabertimes.com
Taber midget "AA" Golden Suns' (9-8-2) busy weekend of South Central Alberta Hockey league play netted them a 2-1 record.
The loss was a 4-0 blanking at the hands of Medicine Hat Hounds (10-4-3) on the road on Friday night.
Ethan Barrows had a busy night in net, facing 45 shots on goal.
Midget Golden Suns were able to rebound with a 6-4 victory over Red Deer Elks (2-11-3) on the road on Saturday.
Cody Stange and Kole Fujita both had two goals apiece with Kolby James and D.J. Tonin getting singles.
Gage Reimer earned the win in net, facing 42 shots on goal.
The squad ended its long SCAHL road trip with a 6-3 doubling Central Alberta Selects (8-6-1) on Sunday afternoon.
Fujita, Stange, Max Nevil, J.D. Hall, Brogan Booth and Jayden Kostiuk scored for the Suns. Dallas Bodnar, Ryden Rempel, Booth, and Kostiuk each had two assists apiece.
Barrows earned the win in goal, facing 28 shots.
BANTAM: Taber bantam "AA" Golden Suns (5-11-2) split its pair of SCAHL games on the weekend.
The team's road travels included a 4-1 loss Bow Valley Timberwolves (15-4-1) on Saturday.
Tyler Maslen scored the lone Suns tally. Landon Porteous faced 24 shots on goal in the loss.
Sunday's slate featured a 4-2 victory over Central Alberta Selects (3-13-3) on the road.
Rylan Millo tallied twice and Jackson Nault and Heath Hansen both had singles. Kade Degenstein and Nathan Verloop both had two assists apiece.
Porteous earned the win in net, facing 32 shots on goal.
PEEWEE: Taber peewee "AA" Golden Suns (13-5) were able to win both of its SCAHL contests, starting off with a 7-2 victory over Lethbridge Hurricanes Red (6-11) at the Coaldale Sportsplex on Friday.
Aidyn Law scored twice and Kayne Van Metre, Oscar Oliveros, Brady Magarrell, Hayden Onda and Kade Duell had singles. Duell, Law, Magarrell and Paul Vanden Elzen all had two assists apiece.
Brylin Noble faced 33 shots on net in the victory.
Peewee Suns continued on the road on Sunday and earned a big 11-2 win over Chestermere Lakers (0-17).
Law and Magarrell both potted hat tricks and Colby Gulliver had two goals. Kobe Urasaki, Connor Chapman and Duell had singles.
Kahil Wright earned the win in net, facing 20 shots on goal.