Celtics wade into deep tournament pool
Posted on December 12, 2018 by Taber Times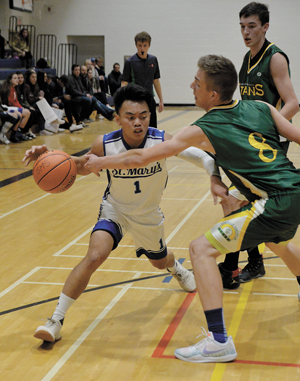 DRIBBLE DRIVE: Carl Rodrigo of the St. Mary's Celtics varsity boys basketball team tries to drive into the paint against a Coaldale Christian defender during exhibition play last week at home. TIMES PHOTO BY GREG PRICE
By Greg Price
Taber Times
gprice@tabertimes.com
St. Mary's Celtics varsity boys basketball team earned the consolation title in its tournament run this past weekend at Rule the Court.
The tournament was set up for pool play with the Celtics' pool being a deep one indeed.
The Celtics' opening game was a 76-60 loss to Claresholm.
"They are the reigning 2A provincial champions from last year. Even though they graduated some players, they still have a very good club," said Ken Gabruck, head coach of the St. Mary's Celtics varsity boys basketball team. "We kept it close throughout, but then we hit this stretch where we gave up 10 unanswered points and then struggled to get back in the game. As a whole, they were too quick for us."
Emanuel Adra had 17 points in the game and Beau Huseby had the double-double with 10 points and 16 rebounds. Tyrell Martens chipped in 10 points and nine rebounds.
Celtics continued pool play and dropped a 91-68 decision to Calgary Christian, falling behind 12 points at half-time.
"Again, it was their quickness that caused us a lot of problems for us," said Gabruck.
Carter Hendricks had 21 points in the contest and Carl Rodrigo poured in 14. Seth Muller had 12 points and nine rebounds.
The Celtics crossed over and played the third-place team in the other pool and ended its tournament run with a 102-44 victory over Nobleford.
Jonathan Vanderbeek had 13 points and 13 rebounds. Hendricks hit for 19 points and Angelo Logrino had 15 points.
"As it turned out, all three teams in crossover from our pool were victorious. Our pool was the stronger of the two pools for sure," said Gabruck. "We got the bad end of it."
St. Mary's Celtics boys basketball team hosts Vauxhall Vikings tonight at 7:45 p.m.
"There are areas we definitely have to work on. Right now, it just seems like we can't compete for a full 40 minutes. We just have some lapses where we give up 10 to 12 points in a row and it's a struggle after that," said Gabruck. "We miss some shots, then it's some unforced errors after that and we are out of sync for awhile. We lose our confidence and then we go into a bit of a shell where we lose the team concept and then our defence struggles."
This weekend the team travels to Coaldale for a tournament.