Rebels girls begin provincial defence
Posted on December 5, 2018 by Taber Times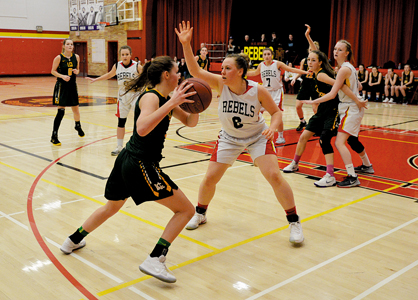 TIMES FILE PHOTO
By Greg Price
Taber Times
gprice@tabertimes.com
Plenty of teams will be circling their calendars for the game they play against the W.R. Myers Rebels varsity girls basketball team.
You tend to get that type of attention after coming off a provincial-banner winning season.
"We told the girls after we chose our team, that we have that target on us. It is so difficult because every team wants to beat us and use us as a measuring stick," said Kenney Wood, head coach of the W.R. Myers Rebels girls basketball team. "We have to go out and perform. We are going to lose some games, but as long as we are performing well, we can build off of that. It's tough to repeat, a lot of things have to go your way. You have to remain healthy and you have to peak at the right time."
The Rebels will be returning three starters and six players from last season for a team that looks to be continuing to show a lot of promise for the 2018/2019 season.
"With the rest of the crew that is coming in, I really don't know who initially the other two starters will be. I see it being pretty fluid as the season goes on without losing a whole lot with some positions," said Wood.
Adapting the play book to the skill sets in front of him, the Rebels girls have had many different identities in recent years, where this year's squad will have its own distinct flavour, with plenty of height in the paint.
"We've had to run different things because sometimes our tallest player was 5-foot-9. This year, it's our tallest team we have had in awhile," said Wood, adding four players check in at 5-foot-11, with another at 5-foot-10. "We'll obviously work it to our advantage this year being so big. We also got some solid guards that are real quick. We will go to our strengths which is going inside first, whereas in the past we had more of an outside-inside game where we would shoot, shoot, shoot and then put it inside if we had to."
Wood will be looking for veteran leadership from seniors Kitawna Sparks, Sophie Simek, Alex Haller, Dani Wright and Austen Robbins.
"The seniors always seem to step up year after year. They understand this is it, for most of them this is the last time you'll put on a jersey to play at this level — competitive basketball," said Wood. "They realize they have to play in the now, there's a finality to it."
The Rebels will get thrown into the deep end right away when they host Raymond Comets on Thursday in its home opener. Junior varsity Rebels play its home games at 6 p.m. with varsity to follow at 7:45 p.m.
"They've lost a lot of players, but Raymond is Raymond. I've been around here in southern Alberta forever, and Raymond is always tough," said Kenney. "We will be expecting a fight because they can take it to you."
Following the Rebels home opener there will be a tournament in Medicine Hat Dec. 7-8. The team then returns home to host Medicine Hat Kwahommies on Dec. 12.
'Home' games will be a relative term this season with renovations continuing to go on at W.R. Myers and DA. Ferguson schools.
Rebels girls home games are being scheduled for the gym at Barnwell School.
"We have practised there enough, that it'll feel like a home court. It'll be different, but it won't feel like an away game. Our fans will be there and we'll get the same amount of people from Taber coming out, and we may get some more people from Barnwell, given the game is right there," said Wood.
W.R. Myers home tournament goes Feb. 1-2 with the Rebels Classic.