Controversy and wins for local fighters at card
Posted on December 5, 2018 by Taber Times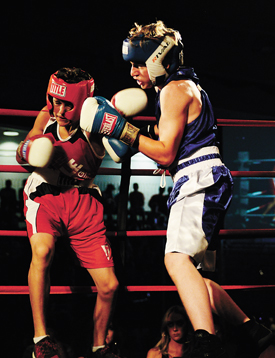 TIMES FILE PHOTO
By Greg Price
Taber Times
gprice@tabertimes.com
Many devoted Taber fight fans made their way to Milk River on Saturday to see the slew of local fighters at Teofista Boxing Series #32.
Headliner Brent Anderson was able to push his record to 13-1 in a fight, with Pro Performance trainer Joel Mills noting Anderson had his hands full in the unanimous decision.
"Anderson did really good, his fighter came to fight though — wow," said Mills. "I wasn't expecting that much of a competitor in the guy he fought. Hats off to him, he pushed Anderson to the limit. Anderson had a little more, his opponent tried to turn it into a dog fight and Anderson is not the guy to do that with. He'll push you back hard."
The fight card started off with Wyler Langhofer whose fight ended up being exhibition due to the difference in weight and age.
"He did awesome. He clearly would have won the fight had it been a legitimate fight, but it was good for experience," said Mills.
Jett Pedersen went toe to toe with his opponent which Mills referred to as 'super durable' and slightly heavier, losing a close decision.
"The fight could have gone either way. I think it was more of a show for the judges. Jett got clipped with a couple of jabs that popped his head back and I think that stayed with the judges in their mind," said Mills. "But, Jett did a lot of damage to that kid where I was a little disappointed we didn't get the decision. Jett will be back, that kid has a ton of talent."
In what was the first of three decisions the Taber stable of boxers didn't get, Mills added each fighter legitimately had a chance for the decision to go the other way. That included Gavin Kinniburgh's decision.
"Gavin was just as aggressive as his opponent. He came to fight and all our fighters had a great attitude," said Mills.
There was no grey area according to Mills in Jenna Langhofer's controversial loss in an unanimous decision — it was highway robbery at its best.
"She clearly won the fight. Everybody in the venue could see she won the fight and get the decision which is super disappointing. Any judged sport, you are going to run into that," said Mills. "She dominated in every aspect. She dominated in power punching, ring control, output and volume. There is no way anybody should have seen that fight in any other way other than Jenna winning. The only three people in the whole venue who thought she didn't win that fight were the judges. You can go on the record with that."
Reversing the sour taste in Taber fight fans' mouths after that controversial decision was a dominating effort by Oskar Timofiejew who registered a TKO in the first round.
"What a performance by him. He KO'd his opponent and looked really good doing it. He proved a point to himself and Alberta amateur boxing that he was something real," said Mills. "He caught his opponent with a right hand and gave him a standing eight count and then caught him with another right hand and on the second standing eight count (they called it). He jumped on his opponent right away and didn't give him a chance to breath. Oskar was in good shape and he was strong and powerful. He just outmanned his guy."
Unfortunately, illness caused the fights of Brad Olson and Tiffani Olsen to be taken off the card.
"Brad got sick on fight night and he was called off the show and didn't get a chance to fight. Tiffani Olsen was up next and her opponent ended up getting sick and got pulled off the show," said Mills.