Novice Oil Kings starting hockey season strong
Posted on November 28, 2018 by Taber Times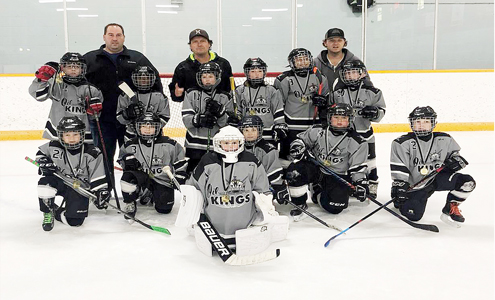 KINGS OF THE RINK: The Taber novice Oil Kings have started their regular hockey season strong as they continue to rack up wins in the early portion of the 2018/2019 CAHL season. TIMES PHOTO SUBMITTED
Novice Oil Kings have proved to be royalty of late in minor hockey circles, piling up some impressive wins as it embarks on its Central Alberta Hockey League season.
In a Remembrance Day weekend tournament chock full of teams in a deep field, the Oil Kings emerged with an undefeated streak that led to the gold medal in their division.
On Saturday, Nov. 17, the Taber novice Oil Kings started its Central Alberta Hockey League regular season where it hosted the Carstairs Bruins and won 10-3 at the Taber Arena.
Delphin Deboer had a five-point game with one goal and four assists. Dane DeGraw scored two goals and had two assists. Ethan Volk and Julian Woordman each had a hat trick. Madix Miller had a single, while Lincoln Wiebe got an assist.
This past Saturday, the Oil Kings traveled to Cremona, having to battle the weather and road conditions along with its opponents. Nevertheless, the team came away with a 6-0 shutout.
Goalie Ashton Jensen had a shutout, while Woordman scored twice. Wiebe, Deboer, Volk and Nathan Gensorek each scored singles.