Locals featured on amateur boxing card
Posted on November 28, 2018 by Taber Times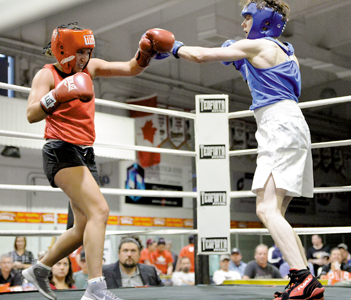 TIMES FILE PHOTO
By Greg Price
Taber Times
gprice@tabertimes.com
A large stable of local boxers will be making their way to Milk River this weekend for Teofista Boxing Series #32.
Eight fighters from Taber will be strapping on the gloves on Saturday which include headliner Brent Anderson, Brad Olson, Oskar Timofiejew, Gavin Kinniburgh, Jenna Langhofer, Tiffani Olsen, Wyler Langhofer and Jett Pedersen.
"We always try and shoot for 12 fights on a card. We line up about 16 and then we expect a few to drop out," said promoter/trainer Joel Mills. "I'd say there will be between 12 to 15 fights."
Experience levels in the ring will be all over the place from amateur veteran and Golden Gloves champ Brent Anderson who is now in his teens for bouts, to a few of the Taber-area boxers getting in the ring for the very first time competitively.
"I've been in the planning stages for this for about three months now. As soon as we started planning, training camp started. They have been going hard, sparring twice a week and training for to five times a week," said Mills. "I'm pretty confident with this group. I'm pretty confident that these guys are going to perform and end up on the right side of a decision."
With plenty of experience in both pro and amateur boxing, as the boxers have worked out at Pro Performance gym, Mills' wisdom has been focused on amateur style of scoring for strategy for his boxers.
"The strategy to a pro fight is quite a bit different than amateurs because the scoring is so different," said Mills. "An amateur fighter has to concentrate on quantity. It's usually the aggressor that wins the fight, plain and simple. In professional boxing, the round is scored on a number of different things like effective defence, ring generalship — things like that. In pro fighting you are focusing on hitting to hurt while in amateur boxing you want to focus on hitting to hit (score)."
With Taber-area boxers dominating the majority of the fight card, Mills expects a strong contingent of local fans to make their way to Milk River to the Civic Centre, much like there has been a loyal following for cards in Calgary and Taber.
"All these boxers have put their work in and given it back to me. Everyone of these guys and girls have been giving their 100 per cent which is why I'm so confident," said Mills. "It's awesome to see the sport grow and the support from people in Taber has always been phenomenal. This is sort of what I was envisioning when I moved back home."
Capacity for the Milk River Civic Centre is 900 in which 20 tables are already sold.
"I'd say over half the crowd will be from Taber," said Mills, adding there are still general admission tickets available at the gym.