Small Ice surface a 2020 budget item
Posted on November 14, 2018 by Taber Times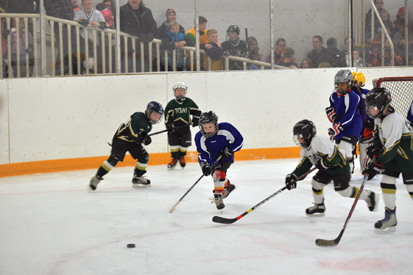 TIMES FILE PHOTO
By Trevor Busch
Taber Times
tbusch@tabertimes.com
The decrepit Small Ice Arena has been slated for a long-awaited potential renovation in 2020 after the Taber Recreation Board put forward a recommendation to town council.
Administration had hired MPE Engineering to conduct an investigative report regarding options for repair or replacement of the Small Ice Arena. The Taber Recreation Board reviewed options and received feedback from stakeholders that would be impacted by the decision.
"After speaking with all the user groups, it was pretty evident that repair of the Small Ice was where the majority of the user groups would like to go," said rec board chair Danielle Hansen, heading a delegation to town council at their Oct. 22 regular meeting. "The majority of all the user groups found they need the Small Ice. There were a lot of user groups that enjoyed the Small Ice better, some of the groups because then they can have smaller teams rather than being on the large ice."
The proposed renovation is not currently included in the approved 2019 capital budget, and rings in at a cost of $1,510,000. Other options, such as expanding the current building north to allow for the construction of a regulation-size rink ($5,040,000), or constructing a new separate building for a regulation-size rink ($6,960,000), are significantly more costly.
"It was a very interesting meeting, sitting there at the rec board with the user groups," said Coun. Louie Tams. "You'd think everyone would be in favour of two large ice surfaces, and they informed us that's really not the direction they're going with the advent of things like Pond Hockey, where they like the small ice surface, the new rules in minor hockey with the size of ice for smaller children, where a small ice surface is preferable and is actually going to become recommended as to how minor hockey looks at these small ices. They were very clear that if it was fixed and the boards were rounded properly to fit in that scope of things it would be more ideal for the many user groups. I was quite amazed, and they were pretty much unanimous about it, and they were also very cognizant about cost to the Town of Taber."
More than 40 years old and slowly deteriorating with each passing year, administration highlighted the facility is well utilized and would be a loss to the community if not available for further use.
"After speaking with them, too, generally everyone probably would like a second large ice, but there's always cost to that, and could their groups take on a higher cost in user fees?" said Hansen. "And they couldn't. So that was another reason why they wanted to keep the Small Ice."
After confirming with the delegation that various local user groups have also utilized the Vauxhall Arena, Coun. Joe Strojwas argued against the construction of an additional large ice surface in Taber.
"So we have a large ice only 20 minutes away that can be utilized, so it only makes sense to keep this as a small ice surface."
The rec board had previously passed a motion recommending town council consider renovation of the Small Ice Arena. Following discussion, council voted 6-1 to include repair of the Small Ice Arena in the 2020 capital budget. Mayor Andrew Prokop opposed the motion.