Rec board pushing for free tennis
Posted on November 14, 2018 by Taber Times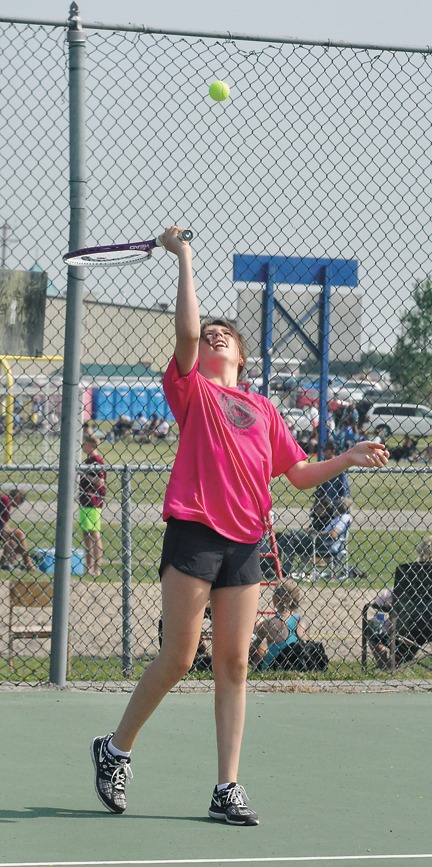 TIMES FILE PHOTO
By Greg Price
Taber Times
gprice@tabertimes.com
If the Taber Recreation Board has its way, Taberites will be getting to enjoy tennis for free for the 2019 season.
As Taber Recreation board members were discussing possible minor recreation fee review/increases for town budget time, the topic of possible free tennis was raised again after administration did some background research on locking systems that could be followed to lessen the chance of vandalism with code systems.
"They are hard to come by, mainly because we want to be able to have access to two codes as versus one. One would be an annual code, versus a daily code…that's where we ran into a problem," said Marty Planger, recreation clerk for the Town of Taber, at the Taber Recreation Board's November meeting, adding they found a suitable system in Okotoks that uses a code system for their tennis courts. "They led us to a company and their system is about $2,000 with the hardware, as well as the software. That will be able to have the key fobs or a card to scan for your annual. There is also the daily code, so you will even be able to charge for those days which we are not able to do now."
Aline Holmen, director of recreation during the recreation board's November meeting, noted fobs would cost extra at around $2 to $3 each.
"The reason we said daily was because it's very difficult to do a key code on a hourly basis. We have had numerous requests of people coming into town wanting to play tennis or pickle ball in that space and have a daily rate," said Holmen. "You will likely be closer to $3,000 in reality (of overall cost), when all is said and done, maybe even $4,000 depending on your number of fobs."
Currently, the fees for usage of the courts are based on the purchase of an annual admission which is managed through key sales.
Administration had conducted a survey of other municipalities to determine their rates, with many municipalities (Nanton, Brooks, Fort Macleod, Crowsnest Pass, Claresholm, Sylvan Lake and Airdrie) offering their tennis facilities free of charge, where the other option could be simply opening up the gates to everyone.
"There are a number of communities that offer tennis for free," said Holmen.
Louie Tams, recreation board member and town councillor added it didn't makes much sense for the town to burn through two-and-half years of tennis court revenue (approximately $1400 a year) just to install the code systems.
"My opinion is we have a spray park for kids that is there to use and a skate park."
"Honestly, for older teenagers and adults for the tennis courts, why not let them play for free," said Rene Angermeier, recreation board member. "I grew up in Edmonton, and I never remember having to play for tennis, playing a lot as a teenager."
Angermeier inquired about how well lit the tennis court area is to help alleviate vandalism concerns in which Holmen replied a new light was installed in the area for Cornfest.
"We could certainly light it right up so it's nice and bright next to Parkside Manor. There is a caretaker full time at Parkside Manor is what I've been told, so if there is significant activity going n in the area, I'm sure we would hear about it," said Holmen.
Danielle Hansen, recreation board chairman talked of how she was conflicted, wanting to see the tennis courts utilized moe, but also worrying vandalism costing the town a lot of money to repair the damage.
"The same thing could be said about the skate park too in having less vandalism if you put a fence around it," said Angermeier.
Holmen and Trent Smith, recreation manager for the Town of Taber were at the recent Alberta Recreation and Parks Association conference, and the common answer among municipalities was to keep the tennis free, as constant monitoring with key codes etc would bring in itself extra costs.
"There are bigger municipalities than us that are leaving it wide open. Brooks has five or six courts — they've had a lot of vandalism with other areas of recreation, but they have done fairly well there (with the tennis courts," said Holmen.
Given the Taber Recreation Board was suggesting a minor 1.5 per cent increase in its 2019 fee schedule, taking about $1,400 of annual review from the tennis courts off the board is not going to be an overly concerning shift to the bottom line.
"It doesn't put an additional burden on our administration and we are not spending $2,000-plus for some fancy box system. In the whole scheme of things, our rates for our recreational facilities are very comparable. You look at the whole chart, there's nothing that goes up really bad," said Tams. "Rather than trying to hash out $1,400, just open up the courts and test drive it for a bit. If we find out we are getting a lot of vandalism or things are getting destroyed, we can always change our mind later. It is relatively cheap to do recreation here in the Town of Taber, and in most cases, 0.015 per cent increase is negligible. Just increase our rates and drop the tennis courts."
Taber Recreation Board passed unanimously a motion to recommend to town council a 1.5 per cent increase in the recreation fee schedule for 2019, with the amendments of making tennis free and keeping public skating on the small ice at a Toonie and noon shinny at $4. The Taber Recreation Board will re-visit the tennis court issue after one season if council offers it for free to see if the facilities have been respected by the public in the offering.