Rebels topple Titans in thriller
Posted on November 14, 2018 by Taber Times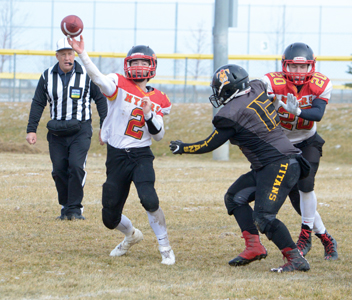 TIMES FILE PHOTO
By Greg Price
Taber Times
gprice@tabertimes.com
W.R. Myers Rebels football team found themselves in some unfamiliar territory in its Tier IV provincial quarter-final against the Drumheller Titans, but still managed to navigate the terrain on the way to a 16-13 come-from-behind victory at Ken McDonald Memorial Sports Park on Saturday.
"I'm pretty sure that game took years off of my life. We knew coming in that Drumheller was going to be a tough team to play," said Jason Jensen, head coach of the W.R. Myers Rebels football team. "They had already given us our toughest game of the year a couple of weeks ago, and they were certainly amped up to play us again."
Jensen's comment was self evident as both defences managed a stalemate up until the Titans finally being able to notch a major with about a minute left in the half.
"They run a double wing offence, which is a mass motion, power-running scheme, that seems like a human threshing machine rolling across the field. They really do run it to perfection, and it's damn tough to defend," said Jensen. "Unfortunately for us, we were hit with some terrible injury problems early on. Between losing our starting running back (Denzel Gross), and some of our biggest linemen, suddenly we were at a serious size disadvantage defensively, and became pretty limited offensively. Hats off to our boys though, it was a 'next-man-up' situation, and the guys that were thrust into action performed to the absolute best of their ability."
Nevertheless, the Rebels did find themselves trailing at half-time, only the second time the Rebels had been trailing all season which made for a type of adversity the Rebels seldom faced. That adversity was magnified about five minutes into the third quarter when the Titans punched in another rushing touchdown.
"I've told these boys before every game that the deciding factor in winning or losing would be in their minds. If every player could decide in their own hearts and minds that they would not be beaten, then there is no opponent that we've faced that could overcome that," said Jensen. "It seemed like that very decision happened after that second Titans score."
The Rebels picked themselves off the canvas from the body-blow of the second Titans major by having quarterback Mike Sawatzky hit Tylor Kornelson on a 29-yard strike to move the chains. Eventually Sawatzky would barge in on a one-yard keeper to make it a one-score game with two minutes left to go in the third quarter.
Sensing the momentum was perhaps shifting, the Titans found themselves in a 3rd-and-8 situation around midfield and attempted a fake punt that did not trick the Rebels. The Rebels tried to punch in a major on a third down themselves on its following drive, but the Titans held strong at the one-yard line.
"Thankfully, our defence was on a bit of a mission as well, and with Drumheller positioned on their own one-yard line, we managed to tackle their running back in the endzone for a safety, and closed the gap to 13-9 with nine minutes left in the game," said Jensen.
Exchanging possessions back and forth, the Titans pushed the ball well into Rebels territory where perhaps one more first down and they could have run out the clock.
But the Rebels would have none of that, as defensive lineman Corny Howatt came tearing through the Drumheller offensive line and forced and recovered a fumble with less than two minutes to go.
The Rebels used the remaining clock effectively, pushing the ball upfield on short passes and a big run, eventually culminating in slotback Brett Andrus scoring the winning major on a one-yard run with 24 seconds left.
A desperation pass by the Titans was intercepted by linebacker Ashton Werewka to seal the victory.
Offensively, Sawatzky lead the way with 164 total yards, with one rushing TD. Brett Andrus had 67 total yards, and a rushing touchdown of his own. Defensively, cornerback Johnny Tams lead the team with nine tackles, linebacker Werewka had eight tackles and an interception, and defensive lineman Howatt had two sacks, one forced fumble, and one fumble recovery.
"I have to say, that was one of the most incredible performances I've ever seen on a high school field. That was an absolutely draining game, and I think it was summed up best when after the final kneel down, the players from both teams stopped to embrace, shake hands, and shed tears, knowing that they had all left everything they had on that field," said Jensen. "It really was one of the most beautiful things I have ever seen, and I think it represents the absolute best things about high school football."
Next up for the Rebels is the provincial semifinal, when the team travels to Canmore to take on the Wolverines, who defeated the Willow Creek Cobras in Saturday's other quarter-final.
"Due to the pre-determined provincial draw, we have to travel to Canmore for that game. We beat them to open the season, but I don't think either team resembles the ones that took the field that day," said Jensen. "Every scouting report I have heard is that they're a team that executes very well, and can score on you in the blink of an eye, so we know we have to be ready. But after what I saw from our boys this week, I feel pretty good about our chances against any opponent going forward."
The Rebels play the Canmore Wolverines on Saturday, Nov. 17, at 1 p.m., at Millennium Field in Canmore.