Rebel rousers at awards ceremony
Posted on November 14, 2018 by Taber Times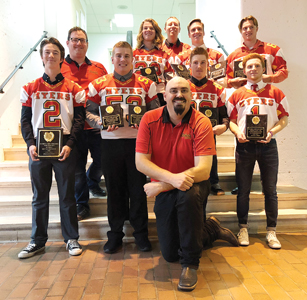 LUCKY NUMBER: At last week's Southern Alberta High School Football League awards night, seven players took home various Division 'B' accolades at Lethbridge Collegiate Institute. TIMES PHOTO SUBMITTED
By Dale Woodward and Greg Price
Alta Newspaper Group
Plenty of Rebels stormed the halls of Lethbridge Collegiate Institute last week for the Southern Alberta High School Football League awards ceremony.
Several players dotted the Division 'B' list, seven in all, as the strong core continues in its provincial title quest this weekend in Canmore.
Heading the list was Mike Sawatzky, selected as Most Valuable Player for Division 'B'.
As he headed into his final season with the Taber W.R. Myers Rebels, Sawatzky not only quarterbacked his team to a first-place seeding in the Football Alberta Tier IV ranks, the Grade 12 pivot hopes to lead his team to a provincial title.
Surrounded by so many solid players around him that have led to dominating performances for the most part during the duration of the season, Sawatzky gave a tip of the hat to his teammates, while noting his continued drive to the ultimate title.
"I put in the work in the off-season and I've got to thank my team. I had some great receivers and a great line. Ever since I've been a rookie and playing quarterback we've made it to the semifinals every year," said Sawatzky.
"But we all feel like we have a chip on our shoulder and we want to take the province. We've got a lot of awesome players, guys I played with for years. All of these guys are superior athletes and our coaching staff is incredible. Our offensive co-ordinator has been with us since bantam and same with our defensive co-ordinator. (The) MVP honour was a nice personal accolade. But the main thing to me is the team winning the province. That's the thing that has been on my mind ever since I came into high school and it's been the goal."
Rebels head coach Jason Jensen has watched his quarterback grow into the position over the past five years, having also been on the Taber bantam team coaching staff.
"Mike is just one of the best all-around football players I've ever coached. Not just athletically, he's got the heart and the mind for the game that makes a huge difference," said Jensen. "When he came in in Grade 10 we had a bit of a quarterback battle. We gave him a chance to win the job, but we weren't positive he was going to do it. He stepped up and took it. (He's) a three-year starter in high school football, and he was a good quarterback from Day One. We watched him turn into a great quarterback, and even more importantly, a great leader on this team."
Brett Andrus took home a trio of awards, including Most Outstanding Punter, Most Outstanding Receiver and all-star defensive back.
Speed demon scatback Denzel Gross was given the nod as Most Outstanding Running Back.
Ashton Werewka and his iron-man football helped anchor both sides of the line. He was selected as Most Outstanding Offensive Lineman and all-star defensive lineman.
Joining him on both lines was Corny Howatt who tied for Most Outstanding Defensive Lineman and was an all-star offensive lineman.
Johnny Tams was recognized with an all-star defensive back award.
Rounding out the awards for the Rebels was Kadin Reynolds who was voted Most Outstanding Linebacker and was an all-star receiver.