Recreation board looking at possibility of offering free tennis for residents
Posted on October 31, 2018 by Taber Times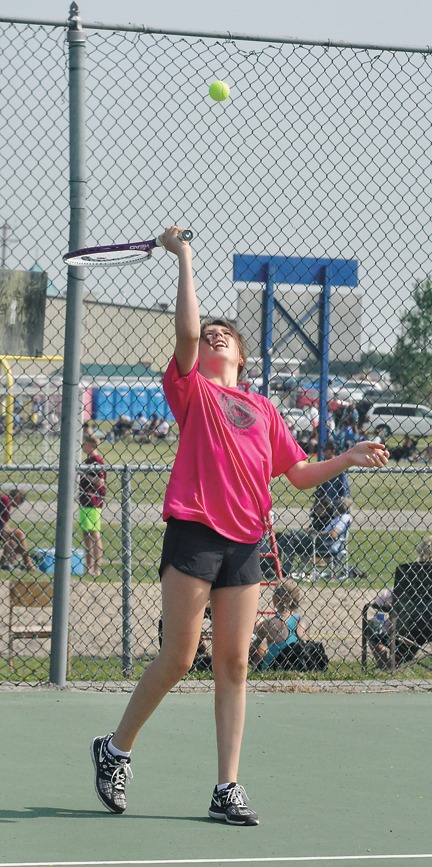 TIMES FILE PHOTO
By Greg Price
Taber Times
gprice@tabertimes.com
As Taber Recreation Board opened up initial discussions on a recreation fee review for November, members bantered about the possibility of making access to the Taber Tennis Courts for free.
Currently, the fees for usage of the courts are based on the purchase of an annual admission which is managed through key sales. There have been requests recently regarding a change to the process to allow an hourly rate or free access. The most recent request was with regards to utilizing the tennis courts for pickleball.
"The mayor, he had some issues around Cornfest, there were people who were wanting to play some pickleball on the tennis courts. We've also had people who have just wanted to play tennis for an hour and have asked about the rate," said Aline Holmen, director of recreation for the Town of Taber at the Taber Recreation Board's Oct. 4 meeting. "Back in the day, you can say leave us your car keys and come back in an hour and pick them up, or whatever like leaving your VISA card, but you can't do that anymore."
Administration had conducted a survey of other municipalities to determine their rates, with many municipalities (Nanton, Brooks, Fort Macleod, Crowsnest Pass, Claresholm, Sylvan Lake and Airdrie) offering their tennis facilities free of charge.
John Turcato, a recreation board member as an M.D. of Taber representative inquired about how much revenue the tennis courts generate on a given year. Holmen did not have the exact numbers in front of her, but she estimated with an average 80 keys being put out at $30 a pop, around $2,500 is generated a year.
"It's not big dollars in any way, shape or form," said Holmen.
Members of the recreation board were very amicable to allowing people to play tennis for free, but some feared about vandalism occurring with open courts.
"Having it unlocked all the time, I would be concerned with kids with bikes maybe going in there zipping all around like they do in the park. Kids have their own skateboard park, but you are seeing some kids go up on the (Cornfest) stage," said Holmen. "Any flat surface, you are going to have interest going in there. But, you won't really know until you try it. We get the odd request of people just passing through wanting to play tennis. A lot of the time they just go there and there's someone already playing and they just let them in."
Continuing in concerns about vandalism, Danielle Hansen, chairperson for the Taber Recreation Board inquired if there were lock systems available where simply a code was needed.
"They could go down to the pool and say, 'hey, I want to play some tennis, could you tell me the code'," said Hansen. "Something that hopefully isn't a huge cost, otherwise it defeats the purpose in being concerned about vandalism (and its costs). I'd hate to see us opening this up and then it starts getting damaged and it starts costing taxpayers more money to maintain."
Holmen noted in making inquiries to other communities who have offered up their tennis courts for free, vandalism has not become a big concern.
"That being said, it only takes one person," said Holmen, adding different security precautions can be taken as well. "There is a big spotlight that is on it (in the park). It points out, but it lights up the whole area."