Bantam Rebels declaw Wolverines
Posted on October 31, 2018 by Taber Times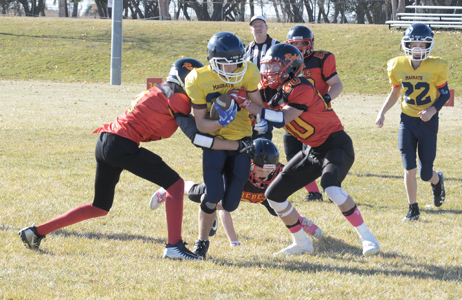 REBEL ROUSERS: Brendan Klassen (4) and Aiden O'Connor of the Taber bantam Rebels football team gang up on a Magrath Wolverines ball carrier for the tackle during bantam Rebels playoff competition at Ken McDonald Memorial Sports Park on Saturday afternoon. TIMES PHOTO BY GREG PRICE
By Greg Price
Taber Times
gprice@tabertimes.com
Taber bantam Rebels football team is off to the Southern Alberta Football Association Division 'B' championship game.
Taber earned a berth in the final with a 36-14 win in the SAMFA semifinal on Saturday at Ken McDonald Memorial Sports Park, over the Magrath Wolverines.
The Rebels went up 7-0 early, as the Taber defence forced a turnover and Aiden O'Connor scored on Taber's first offensive play with a 15-yard run to paydirt.
Magrath responded to tie the score with a touchdown drive of its own, before the Rebels went to the air to extend the lead.
Quarterback Kade Lund went on to throw four TD passes and collected 295 yards to lead the Rebels to a huge win. O'Connor hauled in scoring passes of 25 and 26 yards, while Brendan Klassen caught a 45-yard touchdown. Kyler James led all Rebels receivers with 159 yards, which included a 60-yard score.
"That Kade to Kyler connection was definitely key for us," said Rebels offensive co-ordinator Garrett Simmons. "It's pretty rare to have a bantam quarterback approach 300 yards and a receiver go over 150 yards in a single game."
The coach added Magrath did a good job of slowing down the Rebels running game, which forced a shift in the offensive gameplan.
"The Wolverines had a couple of extremely good tacklers at linebacker, and they made it tough for us on the ground," he said. "We were able to exploit that aggressiveness and put the ball in the air, which really turned the tide for us."
Defensively, Taber was led by Nathan Keeping, who led the team in tackles throughout the afternoon.
"Nathan is one of the best defensive lineman in the league, without a doubt, and he came up huge for us," said Simmons, who also highlighted the defensive work of Klassen, who was second on the team in tackles.
Klassen also picked up an interception, as Tyson Harker and Grayson Litchfield also intercepted Magrath passes. Evan Rabusic and Kole Reynolds collected fumble recoveries.
"Our defence did a great job forcing turnovers when we really needed them," said Simmons. "Magrath did have a couple nice drives, including one at the end of the first half, but we really clamped down on them in the second half."
The win sets up a Saturday championship game at 2:30 p.m. at the University of Lethbridge Community Stadium against the Lethbridge Cougars.
"They beat us by one touchdown in a high-scoring game earlier in the season," said Simmons. "We're certainly looking forward to the rematch."
The winner of Saturday's game moves on to the Tier III Football Alberta provincials, while the season is over for the loser.
"It's win or go home," said Simmons. "We've had a great season so far, and the kids are really excited about the potential of getting into the provincial tournament."