Fate of "AA" hockey not sealed yet
Posted on October 24, 2018 by Taber Times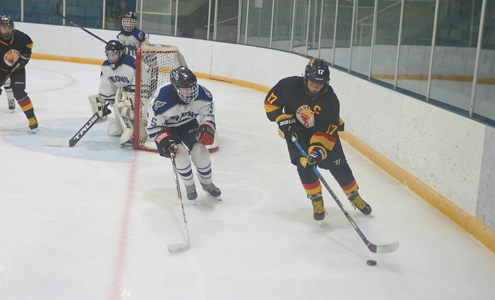 ENEMY TERRITORY: Rylan Millo of the Taber bantam "AA" Golden Suns rounds the opposing net while being harried by Foothills Bisons' defence during SCAHL play at the Taber Arena on Sunday afternoon. TIMES PHOTO BY TREVOR BUSCH
By Greg Price
Taber Times
gprice@tabertimes.com
To paraphrase Mark Twain, the reports of the death of 'AA' hockey in Taber have been greatly exaggerated.
At the Taber Recreation Board meeting in early October, among discussions about wanting improvements to the small ice surface, comments were made about user groups by administration.
Among those discussions was the belief that 'AA' Hockey would be folding in the area for the 2019/2020 season. At this point in time, the Taber Golden Suns Athletic Association has responded, that is simply untrue.
"(Three) years ago, Hockey Alberta took over the 'AA' model, and at that point, all associations can be under review depending on competitiveness, tryout numbers and success of the program," said Ryan Haynes, president of the Taber Golden Suns Athletic Association. "Because of our tryout numbers, we have come under review this year."
The Taber Golden Suns for SCAHL play, are allowed to draw players south/east of Lethbridge which would include Coaldale, Picture Butte, and Raymond. The Taber program can also draw players from Vauxhall to Brooks for the northern border, to Warner and the Canadian/American border for south. Taber Golden Suns can draw players as far east as Foremost.
Haynes brought up the example of the 2017/2018 South Central Alberta Hockey League season. There were 130 people who tried out for the peewee 'AA' system in Medicine Hat, with approximately 95 trying out in the Lethbridge area and 35 trying out in Taber. But Haynes cautioned, low numbers does not necessarily mean a lower quality of program.
"But even though we do have lower numbers, we compete. Most of the time, you want to be .500 or better," said Haynes. "It depends on talent pool, what is around that here, the strength of other teams. Some years you have a really strong team, and other years you really struggle."
Even in the years the Suns programs have struggled, Haynes highlighted forward development among its players.
"Last year for example, our bantam team had a really tough go. They were 7-30-1. Six of those players from the poor performing team went on to play 'AAA' in Lethbridge," said Haynes. "It's not just purely about winning, it's about developing quality players and pushing forward to make better players so that they can play higher hockey in their careers. We have been very successful in getting players into the 'AAA' system in Lethbridge. To me, that is success."
Haynes admitted, the board of directors for the Taber Golden were dismayed to read about comments that were made at a meeting the public could attend by administration about the fate of a hockey organization that were not etched in stone at this point of the process.
"There were rumours floating around that got blown out of proportion. I don't know why you would draw 'we're not going to be around' from that. It's pretty disappointing that administration would state something as fact," said Haynes. "We are under review, but that is the only part that is true."
Tom Wilkins, South Central Alberta Hockey League president, confirmed the Suns are under review, but so is the whole area.
"The 'AA' committee is undertaking a review of the entire SCAHL recruitment area. This is a normal review of the teams to ensure they fit within the 'AA' hockey model which was created three years ago," said Wilkins in e-mail correspondence to The Times. "At this time, no decisions have been made, as the review is in process and we are still (in the) gathering information phase. All teams will be notified as to how, if any adjustments will be required prior to the 2019/2020 season."