Mother Nature does not deter Rebels
Posted on October 17, 2018 by Taber Times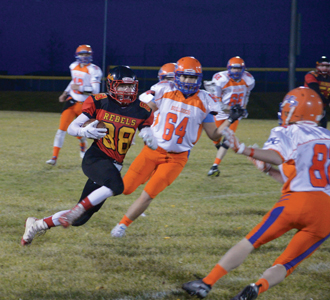 SUPER SPEED: Kadin Reynolds of the W.R. Myers Rebels football team runs upfield with the ball against Winston Churchill Bulldogs at Ken McDonald Memorial Sports Park on Friday night. TIMES PHOTO BY COLE PARKINSON
By Greg Price
Taber Times
gprice@tabertimes.com
The W.R. Myers Rebels battled the elements as much as they did the opposition, on the way to a 35-0 blanking of Winston Churchill Bulldogs at Ken McDonald Memorial Sports Park on Friday night.
"It seems weird to call a game where we won 35-0 frustrating, but in some ways, that's what this was. Right before kickoff, the wind shifted to the north, and started blowing at what was estimated as speeds of 70km/h. That made things really tricky for us. The wind gusts would cause snaps to sail, and throw off the timing of everything, and it caused our opening drive to stall," said Jason Jensen, head coach of the W.R. Myers Rebels football team.
But, fighting the weather goes both ways, as the Bulldogs had no bite to its opening drive either, where eventually the Rebels would get the ball where quarterback Mike Sawatzky would connect with receiver Kadin Reynolds on the Rebels first major of the game.
The Rebels defence would hold tight once again on the Bulldogs' second series, where Mother Nature was the Rebels friend as a punt attempt into a strong wind went awry, giving the Rebels excellent field position.
Sawatzky would eventually hit runningback Denzel Gross on a deep route down the middle for a 28-yard touchdown strike at the end of the first quarter.
A wind-aided punt had the Rebels pinned at its own five-yard line where the first play of the series had a short-flare pass by Sawatzky turn into a spectacular 105-yard touchdown jaunt by Brett Andrus. While the Rebels' defence bent, it didn't break with the Bulldogs at times, the Rebels were once again able to escape deep in its own territory with solid runs by runningback Oskar Timofiejew, which set up an 80-yard touchdown run by Sawatzky to bring the score to 28-0 at the end of the third quarter.
Backup quarterback Brett Bullock took over for the fourth quarter, and lead the offence on a nice drive that was capped by a 35-yard Timofiejew touchdown run, that proved to be the final score of the game.
Once things were all said and done, Sawatzky had 274 all-purpose yards, with three passing touchdowns, and one rushing. Gross had 81 total yards, with a receiving touchdown, while Timofiejew rushed for 110 yards and a touchdown. Receiver Brett Andrus had 158 total yards, and a receiving touchdown, and Kadin Reynolds had 35 total yards, and a touchdown.
"I couldn't be more thrilled with our defensive performance as well. The Bulldogs were able to string together a couple of drives, but for the most part, we were able to continually control the line of scrimmage, and force timely turnovers," said Jensen.
Defensive back Johnny Tams lead the team in tackles with six, along with having the Rebels lone interception in the game. Defensive lineman Ashton Werewka was next with four tackles, and two forced fumbles, while fellow D-lineman Oskar Timofiejew, and Wyatt Anderson had fumble recoveries of their own.
"I've said it a few times, and I'll continue to preach it, but what I'm most proud of is the fact that 16 different players recorded tackles on the day. That is the mark of a dominant team defence, as no matter where a time tries to go, and no matter if we have backups or subs in, we know we have guys in place to make a play. That's a great feeling to have heading into playoffs," said Jensen.
The Rebels head into the hostile territory of Drumheller to face the formidable Titans.
"They're ranked in the top-five provincially in our tier, and there's a good chance we could see them in a few weeks in provincials, making this game a very important measuring stick," said Jensen. "They play a tough, physical brand of football, and their coach has said that he's looking forward to this game to see how they stack up against us, so we know they're motivated, and we'll have to be at our best. I've always felt that a tough opponent is the perfect thing to galvanize a team heading into playoffs, and it looks like the Titans are that perfect tough opponent."
The Rebels travel to Drumheller Friday night.