Rebels bring back Dawson Trophy
Posted on October 10, 2018 by Taber Times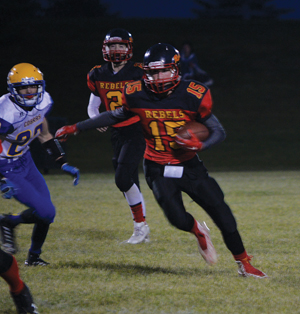 TIMES FILE PHOTO
By Greg Price
Taber Times
gprice@tabertimes.com
A complete-game effort by the W.R. Myers Rebels football team made the Willow Creek Cobras venom less in its efforts, as the Rebels won handily, 36-14 at Ken McDonald Memorial Sports Park on Friday night.
"Our rivalry with Willow Creek is a pretty fierce one. They were the only team to beat us last year, and they ended up winning provincials. Couple that with the fact that they took the Dawson Trophy away from us, meant that we were pretty determined to take this one, and get our hardware back," said Jason Jensen, head coach of the W.R. Myers Rebels football team.
"We had a great crowd out for the game, and with Football Alberta naming it the Game of the Week, we even got some attention from people that aren't affiliated with either team."
In what proved to be ample foreshadowing, the Rebels marched down the fuel din its penning drive, and eight plays later, runningback Denzel Gross found the endzone.
Not to be outdone, Willow Creek answered right back, with quarterback Robbie Hoffman hitting wide receiver Tyler Jones on a 50-yard pass, and runningback Logan Markland diving into the endzone on the next play to tie the game.
"At that point, it looked like this game was going to turn into a shootout, but our defence dug in, and consistently shut them down from there on out," said Jensen.
That included forcing the Cobras to concede a safety and recovering a fumble that led to a Mike Sawatzky rushing touchdown. The Rebels had the game well in hand by half-time, up 22-7.
"At halftime, we preached keeping up the intensity. Willow Creek has a veteran coaching staff, and we knew that they would come out of the locker room having made some good halftime adjustments. However, we also made some adjustments," said Jensen.
On the first play of the second half, safety Mike Sawatzky stripped the ball from the Cobras runningback, and recovered it himself.
Five plays later, slotback Kadin Reynolds scored a rushing touchdown to put the Rebels up 29-7.
Another forced fumble in the Cobras end lead to Reynolds scoring another major, this time on a pass reception, putting the Rebels up 36-7 at the end of the third quarter. Willow Creek was not finished yet though, as All-Alberta runningback Ethan Perry managed to get underneath the ensuing kickoff, and take it all the way to the house, narrowing the score to 36-14.
"When a team has a player of that calibre on their roster, you know they're going to break off at least one play like that in a game. We did such a solid job of shutting him down throughout the game, otherwise, that holding him to that one long score doesn't really bother me too much," said Jensen.
Defensive lineman Corny Howatt had three tackles and three sacks. Safety Mike Sawatzky forced two fumbles, both of which he recovered. Linebackers Shawn Harris and Tyson Rasmussen also recovered fumbles. Defensive backs Johnny Tams and Quinn Bailey each contributed an interception.
"Any time you can can force six takeaways like that, you know you've had a dominating performance. Our offence was able to consistently capitalize on those, making Willow pay dearly for each of them," said Jensen.
Offensively, runningback Denzel Gross had 99 yards and a touchdown, quarterback Mike Sawatzky had 132 total yards, with one passing touchdown, and two rushing. Receiver Kadin Reynolds had 90 total yards, with one rushing touchdown, and one receiving.
"We were able to consistently move the ball well, and while that stout Cobras defence was able to stop us a couple of times, the deadly punting of Brett Andrus pretty well always left them trying to drive out of their own end," said Jensen. "Really, that was a perfect union of all three phases of the game, and it has me beaming with pride. Reclaiming the Dawson trophy was pretty special for these boys, particularly when we get to raise it on our own field. But we have to keep looking forward. We now get to host the zone finals on November 2, and we're guaranteed a berth into provincials. But it's likely that we'll have beat Willow again to capture the zone banner. That's something that not a lot of teams have been able to do over the years, and I expect the Cobras to come back with a completely different game plan. Thankfully, we have some fresh ideas as well, and these boys are driven to succeed."
Next up is the Winston Churchill Bulldogs, in a cross-division game.
"They're a team on the upswing, and I expect a good fight from them. I know their coaches well, and they've told me that their boys are eager to come out to Taber and make a statement, so we'll have to be ready for them," said Jensen.
The Rebels play the Winston Churchill Bulldogs on Friday at 7 p.m. at Ken McDonald Memorial Sports Park.