Rebels roll over Mustangs
Posted on October 3, 2018 by Taber Times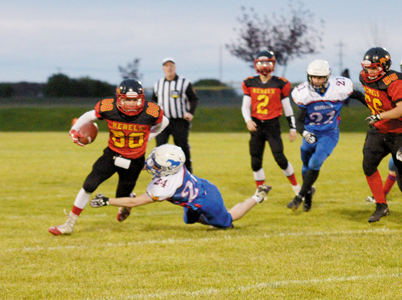 REBEL YELL: Kadin Reynolds (88) of the W.R. Myers Rebels football team evades a would-be Pincher Creek tackler during high school football competition at Ken McDonald Memorial Sports Park on Friday night. TIMES PHOTO BY TREVOR BUSCH
By Greg Price
Taber Times
gprice@tabertimes.com
W.R. Myers Rebels football team provided plenty more horsepower than the Pincher Creek Mustangs could muster, as the Rebels sent fans home happy on Fan Appreciation Night with a 64-0 drubbing of its opposition at Ken McDonald Memorial Sports Park on Friday night.
"This was our annual fan appreciation night, so it was a pretty good crowd, and our boys wanted to put on a good showing for them. Before the game, we talked about the slow start we had last week against Chinook, and how we didn't want to repeat it," said Jason Jensen, head coach of the W.R. Myers Rebels football team. "Pincher Creek is a smaller team, but they always bring a good fight, so we had to be prepared."
The Mustangs had first possession, and the Rebels held them to a two-and-out, and then on the Rebels' second play from scrimmage, slotback Kadin Reynolds ripped off a 45-yard run for a touchdown.
"That opening couple of minutes set the tone for the rest of the game. Hats off to Pincher Creek, they really brought it to us, and managed to break out for some big plays, but we just had them physically overmatched, on both sides of the ball," said Jensen. "A game like this meant that our younger players got to get a lot of playing time, such as quarterback Brett Bullock, who made his season debut, after fracturing his wrist in training camp."
Offensively, runningback Denzel Gross was seemingly unstoppable, rushing for 165 yards, and two touchdowns, all in the first half. Not to be outdone, runningback Oskar Timofiejew took over after half-time, and rushed for 62 yards, and a touchdown of his own. Kadin Reynolds had two touchdowns, one receiving, and one rushing, while fullback Tyson Rasmussen also had a rushing touchdown. Quarterback Mike Sawatzky passed for 80 yards and two touchdowns, while adding a rushing touchdown, all in the half a game that he played.
On the other side of the ball, the Rebels defence was in its typical smothering self. Linebacker Denzel Gross had two sacks on the day, while defensive linemen Ashton Werewka, Luke Jensen, and Sloane Dube each contributed sacks of their own.
Cornerback Brett Andrus had four tackles, and also returned an interception for a touchdown. Halfback Quinn Bailey had a 50-yard Pick-6, aided by cornerback Johnny Tams racing downfield and providing a key block on the last Mustang that Bailey had to beat.
"That interception return and block by Tams is the type of play that makes me more proud of this team than anything. We truly are a team, and these boys will go all out to help each other, even if it means racing downfield 50 yards at a dead sprint just to throw their body in front of an opponent, and get their teammate into the endzone," said Jensen. "Selfless play like that is what is going to make the difference down the stretch here, as we get into playoffs."
The Rebels now prepare to play its most season-defining game to date as the Rebels are scheduled to take on arch-nemesis Willow Creek Cobras on Thursday.
"We had to play them three times last year, in games that were absolute wars, and all three times we came up short. Both teams are definitely licking their chops to get after it again. The Jerry Dawson trophy, which represents the SAHSFL Division 'B' Championship, will be up for grabs that night, and let me tell you, we want that trophy back pretty bad," said Jensen. "This rivalry is one that has caught the attention of football observers across the province, and Football Alberta has named this game the Provincial Game of the Week. Hopefully it lives up to the billing, and the Cobras have to leave the Dawson trophy behind."
The Rebels host Willow Creek Cobras on Thursday at 7 p.m. at Ken McDonald Memorial Sports Park.