Huge second half powers Rebels to win
Posted on September 26, 2018 by Taber Times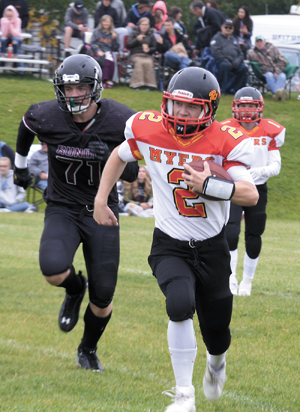 TIMES FILE PHOTO
By Greg Price
Taber Times
gprice@tabertimes.com
An extremely sloppy first half was replaced by an extremely polished second half, as the W.R. Myers Rebels football team kept its undefeated record in tact, rolling to a 43-10 victory over Chinook Coyotes at the University of Lethbridge Stadium on Friday evening.
A blocked field-goal attempt was sandwiched between two two-outs against the Rebels defence that continues to be staunch. Quarterback Mike Sawatzky would eventually scramble for a seven-yard touchdown run. Constantly pinning the Coyotes deep in its own territory, the Rebels forced a safety.
Nevertheless, despite constantly winning the field-position battle in the first half, a deep touchdown pass and eventual field goal had the Rebels trailing for the first time this regular season, 10-9 at the break.
"I have to give Chinook a lot of credit here. Despite the fact that it had to be frustrating to be stuck in their own end for most of the first half, they never quit," said Jason Jensen, head coach of the W.R. Myers Rebels football team. "It was obvious to coaches and players alike that we were just a little off of our regular game in that first half. At half-time, I gave the captains about five minutes to talk to the team alone, and then our staff came in and said our piece. I was very impressed by the attitude of the team at that half. There was nothing for us coaches to yell or get mad about, as everyone was aware they just hadn't played to their potential. I challenged the boys to flip the script, and play like we know we can. Boy, did they ever."
The Rebels came fired up in the second half, converting on third down after a timely catch by Johnny Tams. Sawatzky would eventually connect with receiver Brett Andrus on a 10-yard touchdown strike to retake the lead.
On the ensuing Chinook drive, linebacker Denzel Gross intercepted a pass and almost scored on the return, being hauled down just short of the goal line. Not to be denied, two plays later, Gross took a toss, and plunged over the goal line to widen the gap further.
The Rebels made its necessary adjustments to the new wrinkles the Coyotes introduced to its playbook, forcing some two-and outs and giving the offence a short field to play with. A Sawatzky 37-yard run for the major pushed the Rebels to a 30-10 lead and quashed any hopes of a Coyotes comeback. The fourth quarter saw Sawatzky hit Johnny Tams with a short pass for another touchdown, and then runningback Oskar Timofiejew rounded out the scoring after covering 78 yards on four carries.
Runningback Gross rushed for 125 yards and a touchdown, while runningback Timofiejew had 78 rushing yards, with a TD. Quarterback Sawatzky had 100 total yards on the day, with two rushing touchdowns and two passing. Receiver Brett Andrus had 100 total yards, with one receiving touchdown, while receiver Johnny Tams had 37 total yards, with a receiving touchdown.
Defensively, lineman Corny Howatt lead the team with six tackles, linebacker Connor Tams had five tackles, lineman Luke Jensen had four tackles and two sacks, and lineman Ashton Werewka also had a sack. Linebacker Denzel Gross, and defensive back Quinn Bailey each had an interception.
"I was pretty pleased with the resolve these boys showed going in to the second half. We've had a lot of success so far this season, and you always worry about what's going to happen when things aren't going your way, and you face a bit of adversity," said Jensen. "Some teams don't know how to handle that, and they fold. For some reason, this time, I wasn't the least bit concerned. My gut feeling proved right, and the way that this team just seemed to flip the switch, and absolutely take control of the second half was truly impressive. It certainly told me what I needed to see regarding this team's character going forward."
The Rebels now venture to the second of its three consecutive division games which will decide the winner of the Jerry Dawson Trophy. The Rebels host Pincher Creek on Friday night at 7 p.m. at Ken McDonald Memorial Sports Park as part of Fan Appreciation Night.
"It's our fan appreciation night, so we expect a great crowd. I've been told that Pincher has changed their offensive scheme, so I'm excited to see what they bring to the field. No matter the result, it's always a tough game when the Mustangs come to town."