Myers defence de-fangs Cobras
Posted on September 19, 2018 by Taber Times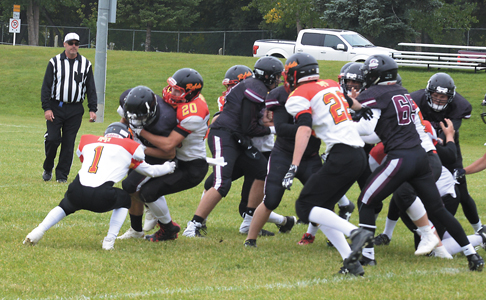 HOLD THE LINE: Denzel Gross (1) and Oskar Timofiejew (20) of the W.R. Myers Rebels football team wrap-up a Rundle College Cobras ball carrier during high school football action at Ken McDonald Memorial Sports Park on Saturday afternoon. TIMES PHOTO BY GREG PRICE
By Greg Price
Taber Times
gprice@tabertimes.com
The W.R. Myers Rebels football team has been like Ebenezer Scrooge around Christmas time in terms of surrendering points — outright stingy in fact as the squad powered itself to its third straight shutout to start its season.
The team managed to make the Rundle College Cobras venomless, earning a 28-0 victory at Ken McDonald Memorial Sports Park on Saturday afternoon.
"Rundle is one of those teams that seems to be strong every year. We played them in provincials last year, and they're provincially ranked again this year. Because of that, we wanted to come out of the gate quickly against them, and hopefully put them on their heels from the get-go," said Jason Jensen, head coach of the W.R. Myers Rebels football team.
The team did just that, forcing a two-and-out on the Cobras' first offensive series. The Rebels promptly strung together an eight-play drive that culminated in a Denzel Gross touchdown run.
"This was kind of the formula for the first half of the game, with the Cobras having trouble gaining any ground on our stifling defence, and our offence gaining yards on the air," said Jensen.
Quarterback Mike Sawatzky would manage to find receiver Brett Andrus twice in the endzone to put the Rebels up 21-0 at half-time.
The cushion allowed the Rebels to give its bench players much-needed game experience with quality time on the field in the second half.
"We drilled home to the boys that just because we were making subs, that didn't mean it was time to take our foot off the gas. The Rundle coaching staff is very experienced, and we knew they would have some half-time adjustments that could give us trouble," said Jensen. "As it was, they were able to move the ball a little more effectively, but our defence was still able to come up big where it counted, keeping them out of the endzone."
Sawatzky found receiver Kadin Reynolds with a third-quarter touchdown pass to round out the scoring for the day.
Following the score, backup quarterback Tylor Kornelson saw his first action at that position. Even with the second string in, the offence was able to do some nice things, including Kornelson scrambling to evade a tackle, and hitting fullback Tyson Rasmussen with a drive-extending sideline pass.
Statistically, Sawatzky ended up with 123 passing yards, 60 rushing yards, and three touchdown passes. Tailback Denzel Gross had 76 yards rushing, with one touchdown, in only a little over half a game of football. Receiver Brett Andrus had 97 total yards and two receiving touchdowns, while Kadin Reynolds had 47 total yards, and one receiving touchdown.
On the other side of the football, defensive end Corny Howatt had six tackles, along with two quarterback sacks. Cornerback Johnny Tams had six tackles of his own, along with an interception. Sawatzky contributed an interception.
"What I am most impressed by was that 16 different players recorded at least one tackle in that game. That shows a real team effort, and proves to me that we have guys on our bench that can get into a game and make a difference."
Next up for the W.R. Myers Rebels football team is the Chinook Coyotes on the road.
"This is our first division game, and more importantly, the first step towards regaining the Jerry Dawson Trophy as league champions. That makes this a must-win game," said Jensen. "Chinook has looked quite polished, and crisp in the two games I have seen them play, so I expect them to put up a serious fight on Friday night. Hopefully we're up to the task."
The Rebels battle the Coyotes at the University of Lethbridge Stadium at 7 p.m. on Friday.