Bantam Rebels suffer tough-luck loss to Cougars
Posted on September 19, 2018 by Taber Times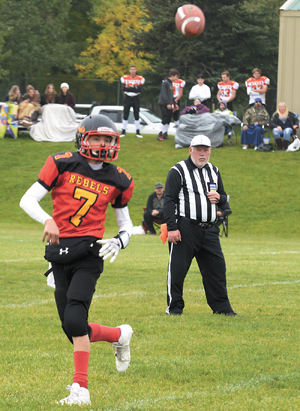 AIR ATTACK: Taber bantam Rebels quarterback Kade Lund delivers a pass against the Lethbridge Cougars at Ken McDonald Memorial Sports Park on Saturday morning. TIMES PHOTO BY GREG PRICE
By Greg Price
Taber Times
gprice@tabertimes.com
In a back-and-forth affair with the Lethbridge Cougars, the Taber bantam Rebels football team came out on the wrong end of a 34-28 score Saturday morning at Ken McDonald Memorial Sports Park.
The opening game of Football Day in Taber at Ken McDonald Memorial Sports Park featured a number of twists and turns.
At the end of the day, however, the Cougars held the trump card — an all-star quarterback that simply refused to be tackled.
"We went up 21-20, had all the momentum and then we just could not find a way to stop their quarterback," said Rebels assistant coach Garrett Simmons. "Lethbridge ran an old-school double wing T offence, which you do not see very often anymore. When that quarterback got outside and broke a few tackles, he was just gone."
The speed and tackle-breaking ability of the Cougars quarterback proved to be too much for the Rebels, as the defence wore down in the second half.
"He was making our guys miss more times than I cared to count," said Simmons. "There were multiple times where we had the right play called on defence, and had plenty of guys in position to make a play, and we just could not stop him."
To make matters worse, the Cougars quarterback also scored on a long kickoff return, and prevented a Rebels touchdown.
"We actually had a chance to really change the momentum with a huge interception, which we thought was going to be a touchdown for sure," said Simmons. "Brennan Abela did a great job picking off a pass almost at our goal line, and taking it 70 yards. The quarterback chased him down, our offence couldn't punch it in, and the game slipped away from there."
Taber's offence did connect on four scoring drives, however, as the Rebels amassed 341 total yards. Quarterback Kade Lund went 12 of 16 for 255 yards and three touchdowns.
"He had an amazing day, and it could have been even better," said Simmons. "We had a key drop on a first-quarter deep pass that would have been a sure six points. We did rebound after that and made a ton of big plays."
Those plays included long catch-and-run plays by Abela and Aiden O'Connor, as the two slotbacks finished with 83 and 100 receiving yards respectively.
"We showcased a pretty dynamic, big-play passing game," said Simmons, as the Rebels also received a 30-yard touchdown catch from Mason Werewka. "We were certainly able to stretch the field and make some big plays throughout the game."
Taber amassed 86 yards on the ground as well, led by O'Connor's 46 yards and Abela's 27 yards, highlighted by a long touchdown run.
Defensively, Taber was led by Abela, O'Connor and Werewka, as each player collected six tackles. Werewka also chipped in with a sack. Logan Porter had four tackles and Liam Knutson added three stops.