Rebels tame Wolverines in big win
Posted on September 12, 2018 by Taber Times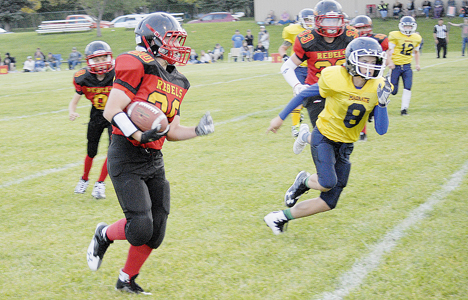 FOOT RACE: Liam Knutson (20) of the Taber bantam Rebels football team carries the ball to the outside during a Saturday-evening game in Taber at Ken McDonald Memorial Sports Park against the Magrath Wolverines. TIMES PHOTO SUBMITTED BY GARRETT SIMMONS
The Taber bantam Rebels started the Southern Alberta Minor Football Association season off on the right foot on the weekend.
In a Saturday-night home game against the Magrath Wolverines, Taber posted an impressive 42-0.
The Rebels put up 328 yards of total offence in the contest, but it didn't all come easy.
"Magrath did a really good job early on of bottling up our running game," said Rebels assistant coach and offensive co-ordinator, Garrett Simmons. "We struggled a bit to move the ball running up the middle and they did force us into a few early punting situations."
Taber switched to an outside running game, which featured slotback Aiden O'Connor, who rushed for 79 yards and added three touchdowns.
"He really got our offence going when we needed a big spark," said Simmons. "Magrath really had no answer for him."
O'Connor's efforts were part of a 228-yard effort for Taber's ground game, as Kole Reynolds added 41 yards and a touchdown, and Liam Knutson chipped in with 37 yards and another score.
Taber's passing game also clicked for 100 yards, as Kyler James collected 60 yards and Mason Werewka added another 40 yards.
"It was good to see some balance in our offence," said Simmons. "We were able to put the ball in the air and connect for some big plays, which was really nice to see."
Defensively, O'Connor led the way with 11 tackles, while Cohen Broadbent had seven stops and a recovered fumble, which he took to the house for a touchdown.
Evan Rabusic collected seven tackles, while Reynolds, Brennan Abela and Nathan Keeping had three tackles each.
Knutson and Noah Mouland each had interceptions, while Broadbent and Werewka both forced Magrath fumbles.
"Our defence was lights out for the second straight week," said Simmons, who added that unit also had a strong outing the week before in a 19-0 exhibition loss to the Lethbridge Jr. Rams. "We're going to have a very strong defence this year with a lot of veteran talent."
On special teams, the Rebels went 6-for-6 on extra points, as Abela hit four and Werewka connected on both of his attempts.
The bantams hit the field Saturday at 10 a.m. against the Lethbridge Junior Cougars in the first part of the Football Day in Taber doubleheader at Ken McDonald Memorial Sports Park. The W.R. Myers