W.R. Myers Rebels football team gets first win
Posted on September 5, 2018 by Taber Times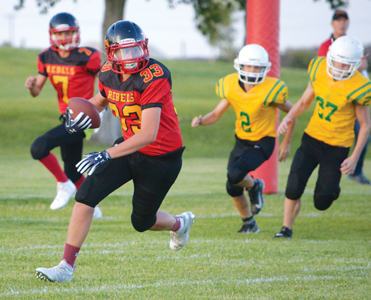 TIMES FILE PHOTO
By Cole Parkinson
Taber Times
cparkinson@tabertimes.com
Football is finally back and so too are the W.R. Myers High School Rebels.
After the fall camp kicked off late last month, the squad had a chance to hit the field and get into a game over the weekend as the Taber team headed to Canmore to face the Wolverines in an exhibition matchup.
It was a good start for the Rebels as they blanked Canmore with a final score of 21-0.
"I'm pretty thrilled to get this win to kick off the season. Canmore is a tough team, and they're coming off the best season in their program's history, finishing in the top 5 in the province. We wanted a good test right off the bat, and we got it," said Rebels head coach Jason Jensen.
While starting the season on a good foot can be difficult for some after a long summer off, the team were right back in the groove of things to kick-off the 2018 campaign. Starting strong was something the coaching staff preached before kickoff and they were pleasantly surprised with the way their team looked right off the hop.
"We challenged our boys to come out of the gate strong, and they delivered, with tailback Denzel Gross ripping off a 35 yard run on the first play from scrimmage. That run kind of set the tone for the day. We have a new offensive coordinator in Garrett Simmons, and I was excited to see how our new scheme would play out in a real game. I was not disappointed. We were able to spread the ball around a bunch, air it out, pound it on the ground, and march effectively on them throughout. Quarterback Mike Sawatzky opened the scoring on a one-yard keeper in the first quarter, tailback Denzel Gross added another in the second quarter, to go along with his 145 yards rushing on the day, and backup tailback Oskar Timofiejew capped the scoring with a 24 yard TD run early in the fourth quarter. Of course, all of this was helped by the fact that we also pretty stellar offensive line play. The boys in the trenches gave Mike plenty of time to throw and opened up some good lanes for the running backs. We definitely didn't play mistake-free football, but that's kind of to be expected in our first game. Garrett has already pinpointed a few adjustments he wants to make, so we should be running like a well-oiled machine in pretty short order," added Jensen.
While playing on the offensive side of the ball was impressive for the coaches, so too was the defence who managed to hold the Wolverines off the scoreboard.
Being the defensive coordinator as well as the head coach, Jensen was thrilled with what he saw in the team's first game of the football season.
"Defensively, I couldn't be more thrilled. It's always a good day when you pitch a shutout. I think they only had two or three big plays the whole game, otherwise, our secondary was able to limit them to short gains. Canmore is a team that likes to pass a lot, which was a good test for our secondary early in the year. For the most part, our secondary was in lockdown mode with safety Mike Sawatzky coming away with an interception, and every other defensive back narrowly missing on several others. This is a secondary that had more interceptions last season than any other team I have coached, and I won't be terribly shocked if they break that record this year. Our defensive line and linebacking corps had a great day as well, continually penetrating into the backfield, keeping their quarterback running for his life, and generally stifling any attempt at establishing a running game. First-year linebacker Shawn Harris lead the team in tackles, with six, followed by defensive lineman Ashton Werewka, with four tackles, plus a quarterback sack," said Jensen.
"Linebacker Denzel Gross, and cornerback Johnny Tams with four tackles apiece. In all, We had 17 different players record tackles in that game, which is something I love to see. I challenge my defence to swarm to the ball carrier, and having that many different players record tackles shows me that that is exactly what's happening."
Of course, special teams also played a big part in any football game and once again the Rebels were top notch in their first showing.
Jensen was especially happy with the way Tams and Quinn Bailey played on the special teams unit as several of their plays made big-time contributions to the first Rebels win.
"To go along with all of that, we got some great special teams plays. Special Teams Coordinator Adam Hughes has his boys playing their hearts out, and that is the kind of thing that turns a game. Multiple times we were able to pin Canmore deep in their own end on kickoffs and punts, and when that happens, it takes the stress off of both our offence and defence. I have to give particular kudos to Johnny Tams and Quinn Bailey who consistently busted their butts downfield and got to the returners immediately, preventing any kind of a return. Johnny also had several key blocks that sprung long punt returns. That's the kind of unsung play that wins you football games," he explained.
Celebrations for their first win weren't extravagant as the team is busy preparing for the next game and the start of the regular season.
The turnaround is fairly quick as they are back on the road this Friday when they head to Lethbridge to face Catholic Central High School in another preseason game.
The Lethbridge team will continue to be a good test for the Rebels as the Catholic Central squad is several levels above where W.R. Myers is ranked.
"Looking forward, we have to prepare for Catholic Central. They're a perennial powerhouse in Tier 2, which is two levels above us, so this is going to be one heck of a test. We're definitely going to have to work out the issues we've identified from the last game if we want to pull this off. I think our boys are up to the task, and this should only help to strengthen us as a team," said Jensen.
 
Kickoff on Friday night is at 7 p.m. at the University of Lethbridge stadium.