Taberite hits ice with Canes and Tigers
Posted on September 5, 2018 by Taber Times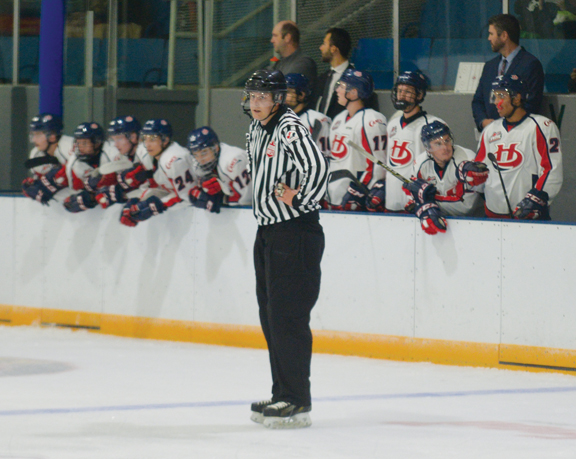 STRIPES: Local official Jared Capner had the chance to suit up alongside WHLers this weekend. TIMES PHOTO BY TREVOR BUSCH
By Cole Parkinson
Taber Times
cparkinson@tabertimes.com
With the Lethbridge Hurricanes and Medicine Hat Tigers in town over the weekend for a preseason matchup, a local official had the chance to suit up to work the lines.
Taberite Jared Capner, a hockey official of six years, had the chance to don the stripes during the preseason game which helped kick off the hockey season.
The road was a long one for Capner to get into a Western Hockey League game but he says it was well worth the effort to finally get the call.
"This weekend's game was a 4-year goal of mine, I've been working towards this game for a while. I've attended many different camps in my officiating career to get noticed," said Capner. "I've attended the John Reed BAAA Invitational Hockey Tournament where I worked as a linesman. Then I attended the Alberta Cup, which is the top 9 prospect officials in the province. After that camp, I went to the development camp for officials which is another top prospect camp in the province. All of which you must be selected from your zone to attended. Last season, I attended the Macs AAA tournament in Calgary as a linesman and that's where I really got noticed by a few of the WHL staff members. All of these tournaments or camps have all been a big exposure place for young officials to eventually get their names noticed and have high-level officials supervise them. Over this summer, I was selected to attend the WHL exposure camp which was specifically WHL prospects and potential officials to be in the WHL one day."
While most don't shift to officiating after their minor hockey careers, Capner adjusted his focus to wearing the stripes after speaking with a local referee who advised him he had the right stature to move quickly up the ranks.
"He told me that me being the size that I am is a big thing for higher level officiating and they love seeing bigger guys in games just because it is sometimes easier to break up fights," continued Capner.  
Being from Taber also made the game special as he had a chance to not only work the lines in his first WHL game but it was in his home arena.
"The game was something I can't even describe. It was amazing to be doing that game in my hometown. It was fast and fun and the crew I was working with, as well as the supervisors in attendance, were unbelievable. They made the game that much better. It was a good game to have a supervisor at strictly because we had a little bit of everything in it. We had some scrums, we had some tight calls that needed to be made and we had some stuff you don't see very often," said Capner.
While well-versed in hockey officiating, the speed of the game is ratcheted up quite a few notches at the WHL level.
He was also incredibly excited by the support he received from the community not just in the hockey realm but the entire town of Taber.
"I was honestly surprised of the speed but all in all it was an amazing experience and I can't thank the town of Taber and all the fans at the game for their support. I hope as the new referee in chief for Taber I was able to show people that just because you come from a small town doesn't mean anything. If you have goals and it's something you truly want then we have the opportunities to make it happen."
With the minor hockey season inching closer every day, his focus is starting to shift to getting back into the regular season grind.
The experience he gained by getting on the ice for a WHL game though will go a long way with Capner who is hoping to continue to reach higher levels of hockey officiating.
"I am hoping to become a linesman in the WHL one day. It has been a huge goal of mine and last weekend's game just puts me one step closer to achieving it," he explained. "I owe the WHL a huge thank you for allowing me to be in the game and putting me in my hometown for a game was just the icing on the cake. The WHL is such a respected group of officials and staff that to one day be able to wear the jersey would be a honour."