Pair of Taberites play at Canada Bowl
Posted on August 22, 2018 by Taber Times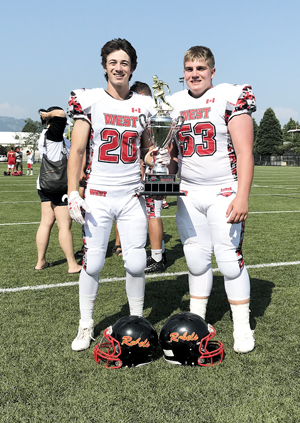 REPRESENTING: Taberites Mike Sawatzky and Ashton Werewka helped make Team West victorious in the ACG All Canada Bowl that was played in Chilliwack, B.C. in late July. TIMES PHOTO SUBMITTED
By Greg Price
Taber Times
gprice@tabertimes.com
Returning triumphantly from a victory at the ACG All Canada Bowl for Team West, two W.R. Myers Rebels football players are hoping to use that momentum for a provincial run in the fall.
Mike Sawatzky helped Team West pitch the 14-0 shutout victory, patrolling the team's secondary at halfback/safety, while Ashton Werewka created holes on the offensive line at guard.
"I was listed at centre, but I played mostly guard. I was starting right guard and I got taken out one time the whole game," said Werewka.
"It was a great experience. There was plenty of talent on both sides even though the score probably didn't show it. It was a real battle in the trenches. There were a lot of good O-line and D-linemen there. Points were hard to come by."
With the Canada Bowl played on the last weekend of July in Chilliwack, B.C., Werewka noted Team West was able to move the ball more consistently than Team East but drives stalled at a critical time for the potential for the score to be much higher for Team West.
"Their offence was finding it hard to move the ball, our offence was getting first downs after first downs, but we were stalling near the goal line," said Werewka.
One of two of Team West's majors were helped greatly by Werewka who got into the second tier of Team East defenders, which sprung a score.
"The first touchdown we scored was a draw play on my side. If I didn't get the block on the linebacker, I'm sure he would have blown up the play and stopped the ball. It was a 20-yard draw," said Werewka. "The centre came and crashed the end and I went up and got the backer, and he had a free run with one guy to beat and got a touchdown off of that."
Sawatzky says the game provided a good boost to his game as he got the chance to line up against some of the best players Canada has to offer.
"It was generally a good experience, good coaches and it was awesome to play against some of the best players in the country," he said.
Werewka has made many travels in his football career, going far past the traditional fall high school season. Participating in various camps and all-star games in the off-season, Werewka also participated in the ABC Border Bowl for Rising Stars which helped him get selected for the Canada Bowl with his impressive tape.
"You sent in game film and they picked the best guys they felt would fit in with the team best," said Werewka, adding Team West was able to get four practices in before playing in the Canada Bowl.
It was a bit of a learning experience for Werewka who had to learn to adapt from playing his traditional centre position, along with playing on the defensive line.
"It definitely wasn't the same. I've played guard before but hadn't played it for several years. The first couple of practices were definitely different, but it came naturally after a while," said Werewka. "You have a lot of different blocking schemes with guard compared to centre. You're pulling, it's definitely different even though you are just one position over."
All those experiences Werewka hopes will propel the high school senior to a season to remember for the W.R. Myers Rebels football team, using his veteran presence to anchor both the offensive and defensive lines.
"Iron sharpens iron. It's good to go up against guys like that with a lot of good talent. It definitely makes me a better player to encounter guys like that and play against a coaching staff with such CFL talents like Damon Allen and NFL talent like Anthony Cannon (Detroit Lions/Toronto Argonauts)," said Werewka. "You learn so much from the coaches. You learn a bunch of new drills and you learn a bunch of new things in these camps because they have so much experience. It was great."
Training camp is currently underway for the W.R. Myers Rebels football team and both players have high hopes for the W.R. Myers squad on the gridiron that has had plenty of success in recent years.
"I'm looking forward to a great season and I think we have another really great chance at provincials this year," said Werewka. "We got a lot of good talent on both sides of the ball and I'm looking forward to another great year, and hopefully finish things off with a provincial championship."
Sawatzky also feels the game helped get him in the right mindset as the Rebels teammates prepare to head into the 2018 football season.
"It prepared me really well, especially because I went up against really good players," explained Sawatzky.