Shooting foundation requests garbage collection at range
Posted on August 15, 2018 by Taber Times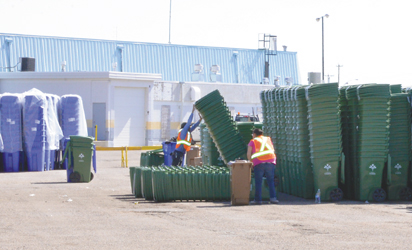 TIMES FILE PHOTO
By Trevor Busch
Taber Times
tbusch@tabertimes.com
Taking aim at the Town of Taber to help alleviate garbage disposal issues at the M.D. of Taber Sport Shooting Complex wasn't like shooting fish in a barrel for the Taber Shooting Foundation (TSF).
Heading a delegation on behalf of the TSF at town council's regular meeting in July, vice president Allen Herbst was in attendance to provide details on the organization's request for the Town of Taber to supply large garbage bins and garbage pick-up at the new M.D. range.
"We are aware the town has stored many large garbage bins at the Taber landfill site. Apparently they are no longer in service in the town limits, except in certain locations," stated Herbst in his written request to council. "Since these are a surplus item, it is our wish to put into service a few of them on our facility."
Located 10 kilometers north of the community on Highway 864, directly adjacent to the Taber Motorcross Park, the M.D. of Taber Sport Shooting Complex accommodates rifle, pistol, shotgun, action and archery with various ranges from 50 to 600 metres.
The TSF hoped to initially place two bins at the range, to be located outside the entrance to the 100/600 metre ranges and the entrance to the action range, between the 50 metre and 200 metre ranges. Both would be accessible to garbage trucks when pick-up occurs.
The request is not a budgeted amount, with potential cost to be determined by the frequency of the garbage pick up requested.
"In order for this to work for us, it would require Town of Taber public works to empty the bins when we request it," continued Herbst in his written request. "I don't expect it would require a regular, weekly pick-up. I would rather we give your staff a call in advance to dispatch a pick-up when needed. Since these bins are rather large, it is doubtful they would have to be emptied very often. The town crew already have a key fob to access the range. If the town is able to accommodate this request, it would necessitate the service be provided free of charge. I realize this is asking a lot, but we simply don't have the monies necessary to enlist your services."
In the letter, Herbst went on to indicate that the TSF's budget to date has been earmarked for developmental projects and construction over the summer, with plans to develop a skeet/trap shooting venue in fall 2018 or 2019.
In September 2014, previous town council allocated $40,000 to cover moving costs to obtain the former Vauxhall MAP (Mennonite Alternative Program) school building for use as the main clubhouse at the M.D. range. The funds were allocated from operating reserves.
"To date, the M.D. has been the main driving force on this project. The TSF has not forgotten the generosity of the Town of Taber when we moved the Training and Resource Centre from Vauxhall to its present location," stated Herbst in his letter. The TSF has a total membership in excess of 450, while user groups include "K" Division of the RCMP, local detachments, CPR Police, ALERT from Calgary, SWAT from Lethbridge, and the Taber Police Service. "We have hosted a number of shooting sports groups, such as the SAPRL, IPSC, Cowboy Action, Mapleseed Workshop, CRPS, and SASG events."
Coun. Jack Brewin inquired if public works has the ability and capacity to tackle the problem.
"If it's only a couple of times a year it's no issue," said public works director Gary Scherer. "The only issue I can see if they're going out to the gun range is if there's garbage that's not generated on site ending up in those bins. That's our only concern."
Herbst suggested this potential issue could be monitored.
"If that comes to our attention, we'll have to try to deal with that from our side."
Scherer suggested he would be more comfortable with collecting roll-out carts at the facility rather than the older steel bins, as that would place increased wear and tear on the town's aging garbage bin collection vehicles.
"We do have five or six of our current carts. I'd sooner pick up the carts than the bins, our truck is newer. Because they're older, I am a little worried about them traveling out of town. That's my issue." said Scherer, who went on to state the facility is already using roll-out carts. "We just gave them carts, and they can take the garbage out of the cart, and they haul it to the dump."
Herbst had reservations about the idea of collecting from roll-out carts, mainly centered on labour issues involved with rolling out the carts when pick up is required.
"The awkward part about that is that the carts are placed inside the shelter, because if they're out in the open the wind really causes issues out there with them. Getting them out to where your trucks could quickly grab them and pick them, there'd be people having to get out of trucks. I guess we could try to mitigate that if need be."
Scherer pointed out town employees would be able to assist with maneuvering the carts when needed.
"Our guy could go in and help you with the carts, that's not an issue."
Brewin, on the other hand, felt this task should be left up to the club's membership.
"I think if we're going to go pick them up for you, the onus could be on you to roll them out of the buildings for the trucks for easy access for pick-up when you call."
Coun. Joe Strojwas was luke-warm about the proposal, highlighting significant cost factors that would be shouldered by town taxpayers for what is in essence an M.D. of Taber facility.
"There's a cost to all this here. A cost that's going to be borne by town residents. This facility is in the M.D. If you're going to put recycling carts out there, we have a contract operator that picks those recycling carts up and they're probably not going to want to pick them up without an additional cost. I see a whole bunch of problems here as far as cost and finding somebody to do this. Should the town be going into the M.D. picking up garbage? Are we going down a road — do we pick up garbage now for the pro rodeo association when they have an event? We've got a whole bunch of different scenarios here that we need to think through, and just see what the cost factors are on this, because there is a cost associated with this here. Putting one of those trucks on the highway, what if it does break down? There's a cost to the town to putting a recycling bin out there. This is not a cut and clear item here. This is a cost to the taxpayers of the town."
Strojwas wanted council to take a wait and see approach which would allow the TSF to consult with the M.D. of Taber before any decision is reached.
"How is the garbage handled down at the M.D. park right now? Is it an M.D. function, do they look after that? If they're down in the M.D. park picking up garbage… have you asked the M.D. if they would do that for you? I realize that you guys aren't public, you're private, but we need to look at all the angles here. If the M.D. is out there with trucks all the time anyway, maybe we should just delay the decision on this until you've examined this a little bit with the M.D., maybe they have a way to help you out as well."
Mayor Andrew Prokop was in favour of the proposal, arguing the cost to the town would be minimal.
"It doesn't sound like it's a major undertaking, it would be on a monthly basis it sounds like. There's some cost, but I think it's minimal. I'm completely in favour of this ask, it's just another way to help out the Taber Shooting Foundation, whether it's in the M.D. of not, we helped them out before."
This statement drew the ire of Strojwas, who continued to advocate for a delaying action on any decision.
"It's not about the good they do, it's about the cost factor, and whether or not the M.D. should be contacted and given the first opportunity. This is in the M.D."
Coun. Louie Tams agreed.
"There is a cost involved, and our job as a council is to look at that. In my mind, this should be handed back to the Taber Shooting Foundation and our administration to come out and say here's what the proposal is, here's what the numbers are, here's how we can do it, or not do it."
Following discussion, council voted unanimously to accept the request as information.