Versteeg waiting on hockey future
Posted on August 8, 2018 by Taber Times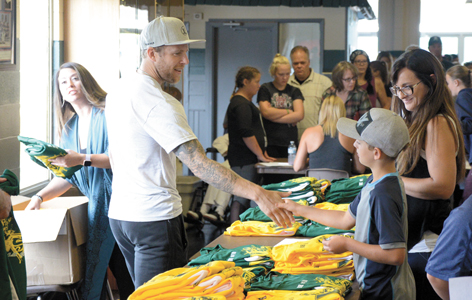 CAMP OUT: NHL veteran Kris Versteeg did a meet-and-greet and posed for many pictures with youth during opening registration for the VerSet Skills Camp on Sunday afternoon at the Taber Arena. TIMES PHOTO BY GREG PRICE
By Greg Price
Taber Times
gprice@tabertimes.com
It is a quarter to five and families are already forming a long line for registration for the VerSet Skills Camp at the Taber Arena late Sunday afternoon.
Among the many people helping with registration is Kris Versteeg, a 14-year veteran of the NHL.
The two-time Stanley Cup champion is front and centre, greeting parents and their adoring children, never shying away from a photo opportunity and a smile. Still unsigned as the NHL season creeps closer, avenues like the VerSet Skills camp gives a glimpse for Versteeg into the business side, while still enjoying that rush as a player, often participating in the drills side-by-side with the participants.
"Each and every year it is slightly different, but also mainly the same. For myself, when you put your name on something, you don't want to disrespect yourself first and foremost. You try and come and be here and show kids you are committed to them and I think that's why this camp is so successful every year," said Versteeg, as approximately 50 kids were on the wait list for the 2018 version of VerSet. "You go to some camps, and players come for one day or don't come at all. For here, I try and meet everybody as much as possible. It's something I take pride in, you put your name on something and you try and do it to the best of your ability."
It is the same professionalism Versteeg has tried to apply to his hockey career. Versteeg hasn't always had the easiest of pro careers, adapting to several new systems, having been part of eight different NHL franchises. Also, the injury bug has bitten Versteeg on more than one occasion, with multiple NHL campaigns cut short in the regular season.
"You try and be professional. Sometimes things don't work out, just like in business. Maybe you get ticked off and things don't go the way you'd like, but you just have to be the best version of yourself and control what you can control," said Versteeg. "When you see people professionally have long careers in the NHL, they also have long careers business wise, because they have that mentality of showing up and showing you are committed."
In honour and memory of the Humboldt Broncos tragedy back in April that saw a team bus crash claim the lives of 16 people, VerSet changed the colours of its camp apparel to that of the team colours of the Broncos.
"We talked about what we wanted to do. Everyone is so amazing throughout the hockey world and even the world itself in showing their support for the families and everyone involved. Also not only for them, but for Brock Hirsche, a local Lethbridge kid who lost his life to cancer," said Versteeg. "We try and honour the kids that grew up in southern Alberta, and represented the area proudly."
Versteeg's last season in the NHL was a tough one for the winger with the Calgary Flames. Injury wiped out his year for the most part, only being able to muster 24 games on the ice. The previous season proved fruitful, as 2016/2107 saw Versteeg manage 37 points in 69 games while offering up his invaluable veteran leadership in the locker room, along with being on the first-team power play.
"This year started out well, but obviously with the hip and ending up getting injured, it's never fun. But, that's how it went. I tried to battle with it for quite awhile, but at one point I couldn't go anymore and I hurt it again," said Versteeg, who underwent surgery back in December. "But, I'm 100 per cent healthy now and I guess we will see what's out there."
Versteeg confirmed NHL clubs have shown interest along with the KHL.
"There hasn't been much apart from a couple of small things. But all in all for me, I don't really care where I play in the NHL or the KHL. It will be either or."
It helps having a supportive wife in Brittany who helps raise two young boys in Jaxson and Maddox, as Versteeg navigates the uncertainty of his hockey career in 2018.
"It is a little tough as you want to know where you are going and playing. But right now, for me and my wife, we know what it's going to be like, especially these last three years. We have talked about every scenario and we are more prepared now than ever," said Versteeg. "Two years ago, it was tougher (when Versteeg looked to be playing with SC Bern in the Swiss League before medical clearance issues popped up). Now, me and her have talked about every single possible situation, whether it is playing in the NHL or playing in Russia, we have every situation mapped out and we are committed to it. Whatever comes, we are ready for it."
For now, Versteeg is concentrating on the VerSet Camp and keeping in game shape.
"I feel like I'm in peak, physical shape and now it's waiting to see on the opportunities. It's weighing things and seeing contract wise what's most appropriate for me and my family," said Versteeg, adding the VerSet Camp helps take him back to his younger days as a kid first learning the game. "I see a little bit of myself in every kid. It's so exciting to see them. Having two young boys of my own, you can see where they are at, at a certain age. Being from here, you take a lot of pride being from southern Alberta and seeing kids who want the same life as you have and enjoy playing hockey."