Anderson once again victorious during Taber amatuer boxing card
Posted on July 12, 2018 by Taber Times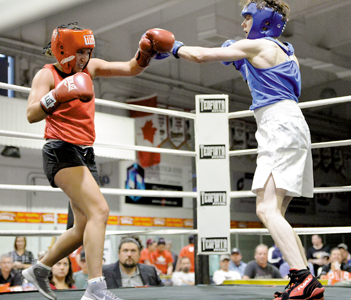 TIMES FILE PHOTO
By Greg Price
Taber Times
gprice@tabertimes.com
A half dozen locals put on the mitts and battled at the Teofista #31 amateur boxing card at the Taber Arena late last month.
Headlining the card was Golden Gloves champ Brent Anderson who had a grudge match rematch against Emile Smith who he defeated earlier in the year.
Anderson managed to gut out a split-decision victory in the 160-pound senior open division, despite feeling like he had to puke his guts out, having battled illness for days leading up to the fight on June 30.
"Inbetween the first and the second round, I definitely noticed he wasn't himself in there," said Joel Mills, cornerman for Anderson, and cornerman for every fighter that fought out of Taber. "Still, he grinded through it and wasn't showing it to the crowd. Hats off to him for grinding through it for sure."
Smith was definitely in hostile territory as Taberites cheered on their hometown boy. Showing a little bit of showmanship, Emile egged on the crowd, with a playful turn as the heel, much to the dismay of the referee at times.
"Hats off to that kid (Smith) as well, I'm a big fan of his. He wanted the rematch and he wanted it in Taber. To come down here and play the bad guy, that takes some guts," said Mills. "But the refs hate it when that happens. They will actually stop a fight if that happens too much (egging on the crowd), and DQ both sides. As a referee you want to stay in control of the match. If stuff keeps happening the crowd gets more rowdy."
For the actual fight, both fighters landed solid blows, resulting in a standing eight count for both fighters after getting tagged.
"I didn't really think the one against Brent was warranted. Standing eight counts are very spontaneous at times when you react. Sometimes the ref just sees the punch and immediately reacts to it and doesn't take the time to see if the fighter has actually been hurt by the punch," said Mills. "Brent definitely took a good punch, but he wasn't hurt by it."
Nevertheless, both fighters showed solid jaws in one of the more entertaining fights of the night where each fighter had their times where they were in trouble from barrages.
Mills added the bout descended more into a street fight than Anderson would of liked, a bit of a by product of not feeling his best physically.
"It was a war of a fight. Usually what happens when you are not feeling yourself, you get overaggressive to try and compensate for your lack of speed and lack of timing," said Mills. "It can turn into a brawl. When you are not feeling super crisp, it's super hard to stay technical."
Right prior to Anderson's fight was Ryan Harkness earning an unanimous decision over Claye Oberkirsch.
Harkness got the better of Oberkirsch with an almost Gumby-like knack for connecting on solid punches from unorthodox angles.
"Hark fights with an intelligence level far beyond his experience level. It's hard to think in there and strategize and stick to the game plan. But he finds a way to do it," said Mills. "You can panic and everything you learn goes out the window. But, he stays nice and calm in there and that's a sign of commanding the ring. Some guys can just get away with throwing punches from funny angles and he's one of those guys. He'll throw a punch from anywhere and that's what makes him dangerous. He's sneaky with his offence."
Taberite Gavin Kinniburgh lost his junior 'B' novice 105-pound division fight to Kieren O'Neill. Kinniburgh looked to be the more technical fighter, but O'Neill overpowered him with his aggression, constantly cutting off the ring and throwing way more punches.
"That kid, technically he is spot on for being a southpaw and his age. He's a super smart kid and once he comes into his own, he is going to be dangerous," said Mills. "It's just an age thing, dealing with kids at that age and that level, it's 100 per cent aggression that wins fights. I went through the same learning curve when I was a kid where I won my first fight and then lost a whole bunch in a row, and it was just being so young and figuring out how to be aggressive."
Taber's Abe Dyck lost an unanimous decision to Philip Motumbo in the 123-pound class for Senior Open. Dyck has consistently drawn tough opponents in his young boxing career where Mills sees his fight game more suited for the pros than for amateur.
"He fought really well, I was very impressed. He keeps getting better every time out where he's had a tough go running into some tough opponents. I maybe want to try and turn Abe pro because I think it would be more beneficial to his fight game," said Mills. "Amateur is such a speed game and in the professional ranks with the smaller gloves, Abe is a guy that punches really hard for his size. With the professional gloves, no head gear and the longer rounds, Abe could wear down a guy like he just fought. You could see in that third round, Abe was coming into his own and the other guy was tiring."
In an exhibition match, Taber's Jen Davis battled Darby Havrelack for Senior Novice 160-pounds.
"Jen fought really aggressively and those two just stood in the middle and beat on each other which was awesome," said Mills.
Among critic's choice, the top fight of the night belonged to Taber's Tiffany Olson who earned a unanimous decision over Jen Sweitzer for Senior Novice 115-pound class.
"From Tiffany's very first sparring session, I knew she was going to do really well. Her opponent was in good shape and ripped up," said Mills. "It turned into a really good fight. Tiffany has that grinder's spirit where she'll take one punch and give two back. She'll take two punches and give four back. When she gets hit, she doesn't back down and back away."