M.D. receives Games update
Posted on June 27, 2018 by Taber Times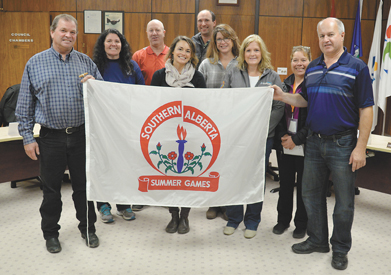 HELPING HAND: The 2018 Southern Alberta Summer Games committee is still looking for volunteers as the date nears for the Games July 4-7. TIMES FILE PHOTO
By Cole Parkinson
Taber Times
cparkinson@tabertimes.com
As the Municipal District of Taber and Town of Taber prepare for the upcoming Southern Alberta Summer Games, M.D. council were given an update to how the process has been going.
During their regular meeting on June 12, Town of Taber recreation director, Aline Holmen, was in council chambers to inform councillors of final preparations for the Games. With the Games going from July 4-7, registrations began on May 3 and closed on June 11 at 12 p.m. with information distributed through the town and M.D. of Taber websites, social media, utility newsletters and local media.
"Currently, we approximately have 2,015 people registered, whether that's athletes or coaches. We have numerous soccer, baseball and ball hockey teams that have not put in their athlete names yet, so that number will go up significantly," stated Holmen.
With thousands of athletes coming to the area, council also wondered how many people the Games were going to attract overall.
While it was hard to predict an exact number, Holmen believed the area would see a significant amount of visitors during the four day Games.
"We did try to track it the one year and we figured anywhere upwards of 10,000 people over the four days," said Holmen. "One of our hopes with these Games is, it's not just about playing the games, it's about getting people to the community and seeing what we can offer. I mentioned to our council last night, we are really trying to showcase all of the facilities that we have either in Taber and the M.D. as well."
Kicking off the Games will be the Opening Ceremonies held in Confederation Park on July 4.
The kick-off will include a free barbecue, live music from Plum Crazy and other activities for all in attendance.
A formal stage ceremony commences at 7 p.m. and will consist of an athlete march, speeches, and awards.
One of the newest sports for this year's edition of the Games is pickle ball, which has been a hit within the senior community throughout the area.
With the inaugural year of pickle ball for the SASG, they have seen a large number of athletes sign up, so much so that some haven't been able to secure a spot.
"We have a couple new sports we are highlighting as well. Pickle ball is all the rage," said Holmen. "We'll see some of the older population registering and in fact, they are a little angry we don't have more room to allow more to register."
As the date draws near, volunteer numbers are still lower than where they would want.
Needing around 300 volunteers to successfully run the Games, Holmen says they are just over half way there.
While the start date of July 4, is only a couple weeks away, Holmen believes they will get the volunteers they need.
"We have a 167 exactly right now and we typically need 300. On top of that, we probably will get 60 volunteers that will volunteer at the swim meet alone. They travel, those are the parents and families of the swimmers. We're looking at around 80 or so, we're just in the process of filtering out what volunteers we have and what locations they are going to be at," she said.
If you have an interest in volunteering for this year's Southern Alberta Summer Games, you can sign up at apps.rampinteractive.com/southernabgames or by calling 403-223-5500 ext.5561. For more information on the 2018 SASG including sport schedules and other events, visit http://www.southernalbertasummergames.com.