Myers proves to be title town in rugby
Posted on June 20, 2018 by Taber Times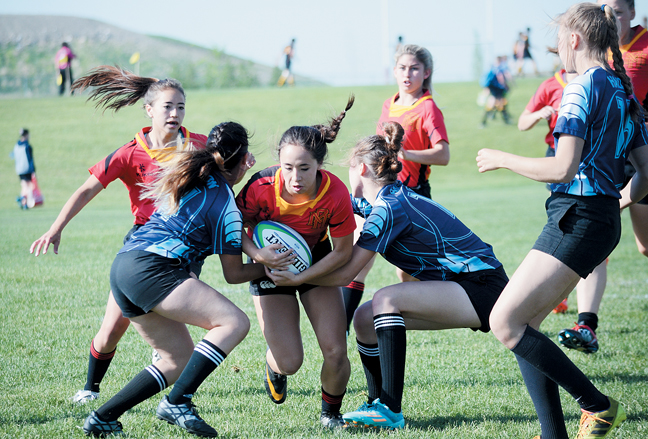 HAVING A BALL: Amelia Shimbashi of the W.R. Myers Rebels varsity girls rugby team attempts to run through two would-be tacklers from Pincher Creek during opening-round competition at Tier III provincials in Calgary earlier this month. PHOTO SUBMITTED BY GARRETT SIMMONS
By Greg Price
Taber Times
gprice@tabertimes.com
Three seasons, three straight years of provincial Tier III championship banners.
With a rugby program that continues to fire on all cylinders, the W.R. Myers Rebels varsity girls rugby team once again proved to be the top team when the smoke cleared among Tier III provincial adversaries in Calgary earlier this month.
The Rebels set the tone early in its opening match, with a 58-0 blanking of Pincher Creek.
"I discussed with the girls the night before we left and in the morning before the game we have to get the first game out of the way because that puts us in the medal round. We knew we couldn't underestimate any team in the provincials. We knew we had to set the tone for the entire weekend," said Chris Komery, head coach of the W.R. Myers Rebels varsity girls rugby team. "We were able to do that and I was able to get all the girls playing time which was great and get that provincials experience. We were able to get rid of the butterflies and it got us into the medal round."
The Rebels faced a familiar foe in the provincial Tier III semifinal in Drayton Valley, making it the third year in a row the two have tussled in the semifinal.
"They are a really strong team with some great athletes and players," said Komery who once again managed to vanquish their adversary. "We were a little more conservative with our bench. We were able to escape with no injuries and pull our starters off part way through the second half to get them rested up."
It made for a complete wildcard of a provincial final as the Rebels were set to battle Stettler, a squad Komery had never encountered at provincials before in Tier III. Stettler did mange to leave its mark this season, ranked number-two in the province going into the tournament.
"They must of done something pretty impressive to be seated number two," said Komery who did some scouting as the provincial tournament wore on, picking the brains of various other coaches who had played the team previously. "They told me what to key on to be successful against Stettler. After observing the first 10 minutes of the match, the recon proved pretty valuable."
The Rebels would eventually emerge with a 46-22 victory over Stettler, making for three straight provincial banners for the W.R. Myers Rebels varsity girls rugby program.
"They had a really strong player that lined up at No. 9 and No. 10. The rumour was she was a provincial if not higher-calibre player. She was really fast, really quick and really physical," said Komery. "The game plan was because she lined up at two different positions depending on if they are on offence or defence, I made sure my two girls in the same positions on defence really keyed in on her. We really emphasized through the whole tournament how important it was to play defence."
Winning zone and provincial banners never gets old for the Rebels program. And the team looks to be solid again next season with only a little over a handful of players graduating in Grade 12.
"We were able to identify some key position players in the JV program that were eligible to play varsity this year," said Komery. "There are some girls that are graduating this year that have been looked at by post-secondary schools and that is always a feather in a coach's hat when you hear stories like that."
The end of the 2018 rugby season at W.R. Myers marks a bitter-sweet time for Komery, who has confirmed he is stepping down from the head coaching ranks after making many fond memories.
"The reasons don't really matter, I just know if I could make a living at this, I'd sure do it in a heartbeat. This is my passion and what I know the best," said Komery. "The fondest memories for me is just being involved in rugby. I could be on the rugby field eight days a week. I love it that much. The way the sport of rugby has developed and grown in Taber, where I think I have been involved for eight years now. If you think about it, in eight years we have won three provincial championships in Tier III. That's just under 50 per cent. That is nothing more than a tribute to everyone who is involved in the program, from the school administration, parents, assistant coaches and finally the girls themselves. Without their hard work, this doesn't happen. We certainly do not win three provincial championships and maybe without their hard work, we don't even have a program."