Cleland honoured with Wall of Fame nod
Posted on June 20, 2018 by Taber Times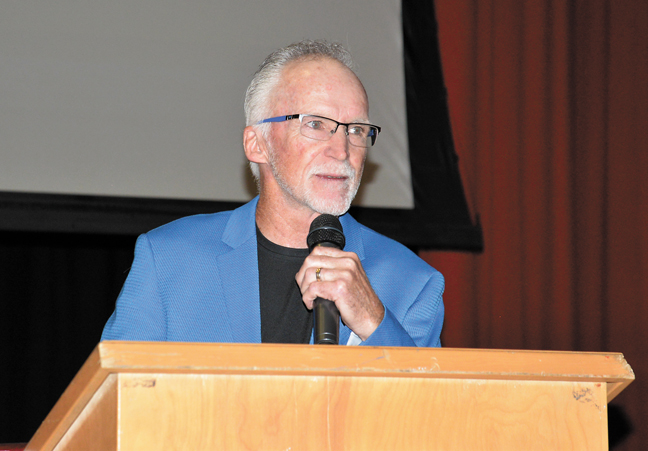 Del Cleland
By Greg Price
Taber Times
gprice@tabertimes.com
Del Cleland left a lasting legacy when it came to athletics at W.R. Myers School.
That legacy was celebrated last week at the school's annual athletic awards banquet in which Cleland was honoured for the school's Wall of Fame where those accomplishments will be etched forever.
Rob Layton, a former pupil of Cleland's both in the sports arena and the classroom introduced Cleland on his big night, admitting he was a little scared and intimidated being in Cleland's presence all these years later, knowing of the bulldog mentality he had roaming the sidelines of the past teams he coached.
"I'm afraid he's going to ask us to do 300 stride squats and 100 push ups," said Layton to a laughing packed crowd at W.R Myers gymnasium. "The scary part is because of the respect I have for Del Cleland, I would do it and I wouldn't be able to move for two weeks."
That respect still resonates throughout the province, where a mention of Cleland's name will bring many a story from veteran coaches and whose legend has been passed down to fresh-faced coaches, even with Cleland having been retired from the high school ranks for numerous years as Cleland approaches his 70th birthday. The list of accomplishments of Cleland's high school coaching career reads like War and Peace in the hours he dedicated to high school athletics.
Factoring both Myers and community athletics, Cleland devoted over a century's worth of sports seasons molding young minds in the Taber community, be it volleyball, baseball, basketball, hockey, track and field, gymnastics, skiing, and Southern Alberta Summer Games.
Among the honours in those sports, Cleland got a Max Gibb award. There were also the numerous medal finishes in numerous sports.
Cleland earned Varsity Coach of the Year four times for the Southern Alberta High School Volleyball League.
During his lengthy high school volleyball tenure, Cleland was at the helm for three gold, four silver and two bronze at 3A provincial championships. Varsity volleyball teams at W.R. Myers were coached to 20 South Zone banners over 29 years. For both junior and senior varsity volleyball teams, Cleland earned 113 tournament titles over 32 years. All this, despite never having played volleyball as a child. The numerous accolades have not only earned Cleland a spot on W.R. Myers' Wall of Fame, but also induction into the Alberta Schools Athletic Association Hall of Fame last year.
Cleland's coaching style was simple: he may never have had the most athletically gifted team out on the court, but he assured his team was tops in physical and mental preparedness with his grueling regimes. Ropes were climbed until hands were bleeding. Lines were ran until people puked according to Layton.
"Why did we do that? Because of the respect and pride Del instilled in us," said Layton. "Del was doing it usually right along with us and he knew how to pull on the ego string of a 16 or 17-year-old athlete."
As Layton noted, all those top athletic honours were more than enough to get Cleland onto the Wall of Fame at W.R. Myers, but it was his work in the classroom and the process in which he coached that encapsulated the spirit of the Wall of Fame.
"Del was the most demanding coach you ever had, but yet he was your friend. He was the quintessential player's coach; tough and demanding, yet personable and fun and well loved," said Layton, reading a memory from one of Cleland's other athletes he mentored. "You would go through a wall for him, and you know he would go through a wall for you."
Layton was a student of Cleland's in biology in which Del was just as passionate in the classroom as he was on the sports court.
"He was as intense in the classroom as he was in the gym. He knew and loved what he taught and engaged his students in such a way as to make us understand and love the material as much as he did," said Layton. "His windows were always open. It's didn't matter if it was 40 below, we were getting fresh air in the classroom. And if the fresh air wasn't enough to keep you engaged in the material and you happened to yawn, the whole class would run stairs."
Influencing many of his pupils to take on the coaching reins themselves, Layton added Cleland has truly been an inspiration to hundreds of players, thousands of students, with that influence spreading all across western Canada.
As Cleland prepared to take the microphone from Layton, the old bulldog showed to be an ol' teddy bear, swept up in emotion from his standing ovation in a packed Myers gymnasium, a school he has not been in for a dozen years.
"Most people who get involved in sports and athletics see the benefits they get from being involved as a student athlete. They really, really only find out about that six or 10 years time. You enjoy your time on high school teams, but 10 years from now you'll see the real benefit. It's playing for each other and not just in sport," said Cleland.
As someone who roamed the floors of the W.R. Myers gymnasium for 34 years, a teary-eyed Cleland was flooded with memories as he walked into the gym once again last Wednesday night.
"I'd like to take this opportunity to thank all my former players, parents and former teachers that showed up tonight and supported this award. I've met so many people tonight, some of whom I hadn't seen in upward of 25 years," said Cleland.
Cleland admitted playing for him was not an easy thing for his student athletes, noting he was guilty as charged with all memories Layton had previously repeated. But there was a method to his madness, with Cleland wanting every one of his athletes to realize their potential they had within.
"When we worked our tails off in conditioning practices, it was distasteful and prideful all at the same time. They walked out of the gym dead tired and yet when we went to tournaments and we had that level of athleticism and conditioning, that allowed us to win. When teams were willing to give up in those late portions of matches, we never did," said Cleland. "All I can say in conclusion is that I put my heart and soul into this school, both as a teacher and as a coach for over 30 years. Getting this award in this gym, this is a big thing and I thank you very much."