Taber Gymnastics Fitness Club ends season on a high note
Posted on June 13, 2018 by Taber Times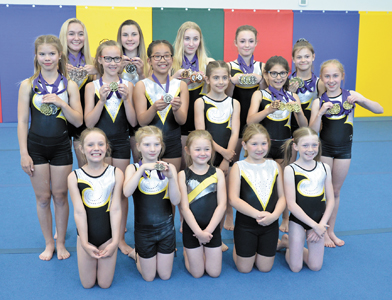 FLOOR ROUTINE: Several members of the Taber Gymnastics Fitness Club competed in the last meet of the season at the Coconut Cup in Kimberley, B.C. TIMES PHOTO BY GREG PRICE
By Greg Price
Taber Times
gprice@tabertimes.com
Taber Gymnastics Fitness Club ended off its competitive season in fine fashion at the Coconut Cup in Kimberley, B.C.
There were 14 members of the club who competed with each gymnast saving their best for last.
Janiell Halabi finished first overall in her category, registering 9.1 in bars (1st), 9.4 in floor (1st), 9.225 in beam (3rd) and 8.85 in vault (4th.)
Other first-place finishes overall included Tayla Hansen, Kate Csabay and Rowyn Coney.
Hansen scored 9.275 in vault (2nd), 8.9 in bars (1st), 9.15 in beam (1st), and 8.95 in floor (1st).
Csabay's scored included 9.125 in vault (2nd), 9.05 in bars (1st), 9.45 in beam (1st), and 9.125 in floor (1st).
The judges scored Coney 9.075 in vault (1st), 8.55 in bars (1st), 9.1 in beam (1st) and 9.125 in floor (2nd).
Top event for Caitlyn Nguyen was a seventh-place finish on floor, scoring 9.2 in a field of 35 competitors.
Nevaeh Charette was 15th out of 35 competitors in vault with a score of 8.95.
Rhyan Hazell's top finish was second place in bars, scoring 8.85 in her division.
Tylerah Daisley took fourth in floor, recording 8.675.
Jahlee Daisley had a 9.25 in vault, which placed her third.
Keira Phillips earned top score in vault, recording a score of 9.5.
Saadieh El Jamal's top score was second in bars, judged at 9.0.
Blaze Hansen's top event was floor with score of 9.175 in floor which was first place.
Camryn Coney earned an impressive 9.4 in beam, which was good enough for third.
Tayla Silver's top finish was second in beam with a score of 9.45.
At the Coconut Cup, the local gymnastics club won the award for best sportsmanship and team spirit at the Level 3 category.
The gymnastics club competed in five different tournaments this year which included Kimberley, Kalispell, Medicine Hat, Airdrie and Calgary. Five gymnasts are retiring from competitive gymnastics, Camryn Coney, Blaze Hansen, Jahlee Daisley, Tatum Higa and Madison Rempel.
Taber Gymnastics Fitness Club will be accepting new athletes in the fall session in both its recreational and competitive programs. You can call 403-223-5437.