Fight card nearing at Taber Arena
Posted on June 13, 2018 by Taber Times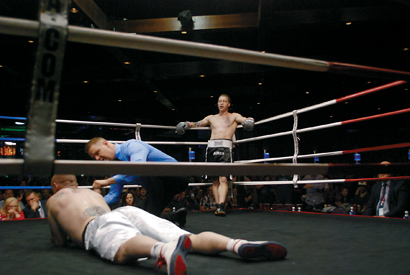 TIMES FILE PHOTO
By Greg Price
Taber Times
gprice@tabertimes.com
An unforeseen right hook was delivered to Teofista Boxing Series 31 that will be running at the Taber Arena on June 30, but the fight card has steadied itself and has come out swinging to deliver plenty of amateur punching power.
An unforeseen Alberta amateur boxing rule had co-promoter Joel Mills scrabbling for fighters to fill some of the card.
"There were some surprises. We totally had to change up some fights. There were four fights I had to totally switch up, get new ones made and scramble," said Mills. "Apparently, the rule is, if they have any sort of MMA (mixed martial arts) experience, then Canada Boxing holds their registration for 60 days. I have no idea why, because in order to register for Canada amateur boxing, you have to have an updated medical that has to have been done within 'X' number of months."
Nevertheless, there are now 14 fights scheduled. Seven fights will feature locals with a headliner being Brent Anderson who just won Golden Gloves, doing a rematch against Emile Smith. Gavin Kinniburgh, Ryan Harkness, Oskar Timofiejew, Tiffani Olsen, Abe Dyck and Jen Davis will be the other locals featured.
"Some of the fights we were able to make are going to be really entertaining scraps," said Mills with each fight being three-round bouts. "It's going to be a good night of fights and hopefully we will be able to keep this amateur boxing rolling here. Amateur boxing is fun because it's more of a fight than it is a boxing match. Reason being the rounds are shorter. You only have six minutes of fighting in there. A guy has to pace himself in the pro game. Amateur boxing can be a lot more explosive. Expect fast-paced fights and good scraps."
Tickets are available at Pro Performance Athletic Centre, Boston Pizza or at the door on June 30, the night of the fights. Doors open at the Taber Arena on June 30 at 6 p.m. with the first fight at 7 p.m.