Anderson wins Golden Gloves
Posted on June 6, 2018 by Taber Times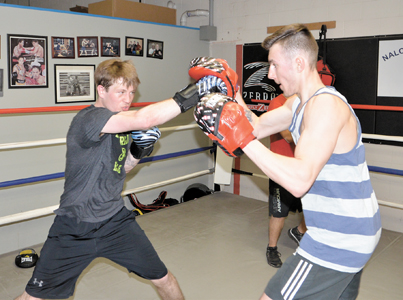 TIMES PHOTO SUBMITTED
By Greg Price
Taber Times
gprice@tabertimes.com
Brent Anderson's gloves are now golden.
Anderson competed at the Alberta Golden Gloves at Westerner Park in Red Deer late last month, and came away with a unanimous decision over Emile Smith from Lloydminster to earn the Golden Gloves in his 160-pound division.
Observations for the fight included Anderson dominating the first round, only to have Smith rally back in the second round, before Anderson winning the decision as a whole in the three-round fight.
"He really outboxed the guy and showed his stuff. The thing with Anderson is he's a really talented kid. He has a really good fighting sense and style," said trainer Joel Mills. "He outclassed him I heard in the first round."
There were no style points for the second round, as Smith took it to Anderson for a bit of a comeback in a brawling style.
"He decided to make it a street fight because he knew he couldn't outbox Brent," said Mills. "He is super tough and when he turned it into a brawl, he evened the playing field a bit. Brent said he was one of the hardest punchers he has ever fought. Anderson said he can really crack."
Nevertheless, Anderson pulled out the victory as his young amateur boxing career continues to go in the right direction with double-digit wins to only one loss. That loss came at nationals after achieving a provincial title. A nationals battleground that had boxers with experience tenfold.
"You can lean a lot more from your losses than you can from your wins. Nationals showed him the level he needs to be at. When he went to nationals, he was biting off a lot just being there. He has nine fights for experience and he fought at senior nationals," said Mills. "At seniors nationals, you have guys with 100-plus fights, 200, 300 fights. He learned he can get there with how solid he was, despite his lack of experience."
If things go according to plan, Anderson will be fighting a rematch with Smith at Taber's amateur fight card on June 30 at the Taber Arena.